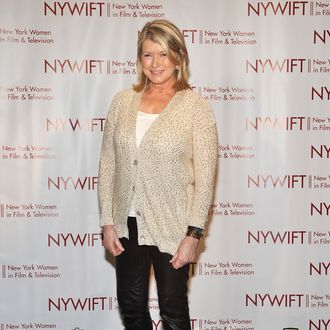 Photo: Fernando Leon/Getty Images
The Hallmark Channel, which is dropping the program, cites poor ratings. Unrelated but also a bummer for Martha, Home Depot will no longer feature her line of paints. Bad news for those who are fascinated by her cooking, crafting, and enthusiastic drinking, and/or want to literally color every corner of their lives with Martha.
Hopefully, though, it's good news for those of us who want Martha to devote more time to her real calling: sending amazing, possibly tipsy tweets from all over the world, in which she is atop various motorcycles, announcing lunch with Ludacris, and openly objectifying the musculature of young Hollywood actors. There will also be a "lavish Oprah style sendoff" for the show, reports the Post, which is definitely good news for everyone, because who in America, despite the tepid reception for her new network, doesn't still secretly love anything that involves the words lavish and Oprah used in combination? Maybe Martha should rebrand her product line with the name "Lavish Oprah-Style Paints" and see what Home Depot says.
Related: The Comeback That Wasn't