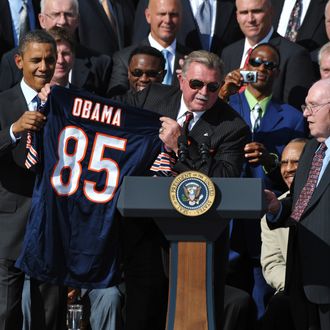 Obama on the happiest day of his life.
Photo: Mandel Ngan/AFP/Getty Images
Because the Super Bowl is the most American thing that has ever happened, each year the president of the United States is asked to pick a winner. But in an interview yesterday, President Obama refused to make a prediction for Super Bowl XLVI between the Giants and the Patriots:
>
"I can't call it. I can't call it," Obama told ABC News' Diane Sawyer in an exclusive interview. "When the [Chicago] Bears are not involved, I can't make predictions because I will get into trouble."
Oh, is that right, Obama? Ahem:

2010:
"I think both teams are terrific. I guess I'm rooting a little bit for the Saints as the underdog, partly just because, when I think about what's happened to New Orleans over the last several years, and how much that team means to them, I'm pretty sympathetic."
2009:
"I have to say, you know, I wish the Cardinals the best," Mr Obama said, adding: "You know, Kurt Warner is a great story, and he's closer to my age than anybody else on the field. But I am a long-time Steelers fan." …. "Other than the (Chicago) Bears," he added, "the Steelers are probably the team that's closest to my heart."
2008:
He wants to see the Patriots prevail in the Super Bowl tomorrow, so they can fulfill their dream of a perfect season. He recalled following, as a 10-year-old, the tremendous feat by the Miami Dolphins in 1972, but said he wanted to see another team now get the honors. Recalling how tough the Giants played the Pats during the regular season, Obama said he expected a close game tomorrow. New England will narrowly pull it out, he predicted.
Aha! Not only does Obama pick Super Bowl winners, he picks Giants-Patriots Super Bowl winners. So why not choose this time? Presumably,  Obama would like to go with the Giants, the team he foolishly spurned in 2008, but he also doesn't want to alienate Patriots fans in New Hampshire, a tough swing state for him in 2012. Whatever. Coward.