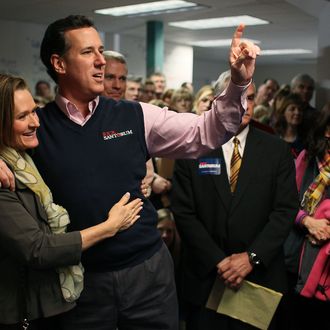 Photo: Mark Wilson/Getty Images
On the 39th anniversary of the Supreme Court's Roe v. Wade decision, Rick Santorum writes in The Wall Street Journal about his personal crusade against abortion, calling President Obama's support for reproductive rights "radical and extreme." After a narrow victory in Iowa, Santorum is still polling low enough that the nomination is all but entirely out of reach, but he'll continue to use the platform he has to yell with the same zeal that made him say the words the words abortion, fetus, partial-birth, and womb more than any other person in the Senate during his tenure there. Even his pro-life Republican rivals, Santorum writes, "simply check the box," but do not live and breathe the issue.
I believe that all life is precious. I know life begins at conception. I know that every person, every child conceived in the womb, has a right to life. I know that life is a right endowed by our Creator, that it is inalienable, laid down in the Declaration of Independence, and should be guaranteed under the Constitution. The right to life is the first right. Without its protection, no other rights matter.
Santorum goes on to dedicate entire paragraphs to Ron Paul, Newt Gingrich, and Mitt Romney, who Santorum says had his "passion for life … overwhelmed by Democrats when he put Planned Parenthood on the advisory board for RomneyCare and did not fight government-funded abortions while governor of Massachusetts." Gingrich, meanwhile, has "pushed social issues to the back bench."
Rather than get breathless on the matter as it stands, Obama released a statement marking the anniversary of the decision, noting that the case "not only protects a woman's health and reproductive freedom, but also affirms a broader principle: that government should not intrude on private family matters." The president concludes, "While this is a sensitive and often divisive issue — no matter what our views, we must stay united in our determination to prevent unintended pregnancies, support pregnant woman and mothers, reduce the need for abortion, encourage healthy relationships, and promote adoption. And as we remember this historic anniversary, we must also continue our efforts to ensure that our daughters have the same rights, freedoms, and opportunities as our sons to fulfill their dreams."
Santorum, on the other hand, writes: "Whenever I am confronted with an immoral law that is unjust or harmful to society, I believe I have an obligation to work toward changing it to comport with what is moral." Perhaps, then, he should try more realistically to get a job in government.