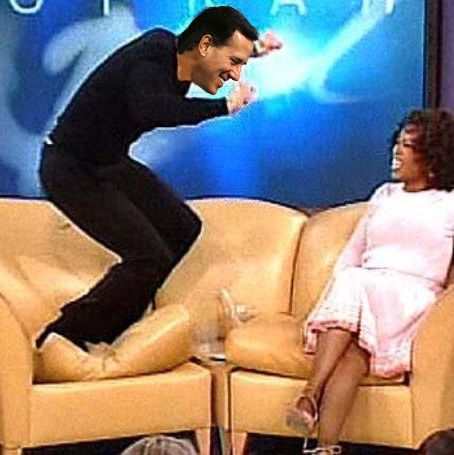 How can something so bad feel so good?
Photo: Photos: Mark Wilson/Getty Images, Harpo
So you think you're monogamous because you've never had sex or made out or held hands with someone other than your partner?  But have you plunked down on an upholstered piece of furniture with someone other than your beloved? Then it's time to step up your commitment level. You're always only one lumbar throw-pillow away from sin, as Rick Santorum helpfully reminded us all today. Santorum told a crowd that he's never so much as sat on a couch with someone other than his wife. Now, this was meant as an obvious dig at Newt Gingrich, who not only freely and of his own volition sat on a couch with famous Dragon Lady Nancy Pelosi, but who, y'know, historically enjoyed a side dish or two.
At first, we were disinclined to believe Santorum. Surely there was a picture of him somewhere on the Internet sitting on a couch with a human of the female persuasion. But we couldn't find one, and so then we began to wonder: How'd he pull this off?
For instance, Santorum didn't get married until the age of 32. Imagine not getting to enjoy the pleasures of sharing a couch cushion with someone until then! Does he ever wonder about what a settee might feel like with another woman beside him? Does it count if he's on an airplane next to a woman? That's not technically a couch, but if the arms of the seats are up, there are definite proximity issues resembling a couch-sit.  
And then there are the logistics of maintaining his couch-purity. Does he just stand awkwardly, looming? Or does he sit on the floor and tell women he prefers it that way? Has he turned down multiple requests to appear on The View for fear of temptation? What about childhood — did he refuse to let babysitters read him books until they were somewhere a little less risqué?