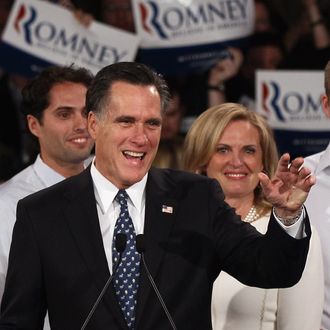 All smiles.
Photo: Win McNamee/2012 Getty Images
As expected, Mitt Romney has won the New Hampshire Republican primary. With 95 percent of precincts reporting as of 12:50 a.m. on Wednesday, Romney has 39.4 percent of the vote, with a double-digit percentage lead over Ron Paul, who has 22.8 percent. After devoting a substantial amount of time and resources to winning the state, Jon Huntsman is set to finish third with 16.9 percent. He said he intends to press on in South Carolina.
Newt Gingrich is fourth with 9.4 percent, and Rick Santorum, the narrow runner-up to Romney in Iowa, is at 9.3 percent.
The results place Romney comfortably within the range of expectations set by campaign watchers, after a bruising week of attacks on his record at private equity firm Bain Capital. As John Heilemann wrote earlier on Tuesday:
If Romney ends up with over 40 percent of the vote and a healthy double-digit win, it will be seen as an unequivocal triumph. At the other extreme, if he finishes with less than 31 percent and/or a mere single-digit win, it will be interpreted as a clear disappointment, maybe even as a kind of defeat. Any result that falls in between those poles will be read more ambiguously, though my sense of the over-under at this point is a double-digit win with 36 percent — a five-point improvement on 2008.
Addressing supporters at his campaign headquarters, Romney once again turned his attention away from his Republican rivals and attacked Barack Obama. "This president wakes up every morning, looks across America, and is proud to announce: It could be worse," Romney said. "It could be worse?"
Related

How to Keep Score in New Hampshire: Will Romney's Win Really Be a Victory?
Romney's Bruises From GOP Won't Heal by November
Who Has Mitt Romney Fired, and How Much Did He Like Doing It?
John Heilemann on Morning Joe: Mitt Romney's Out-of-Context Quotes Sound Just As Bad in Context