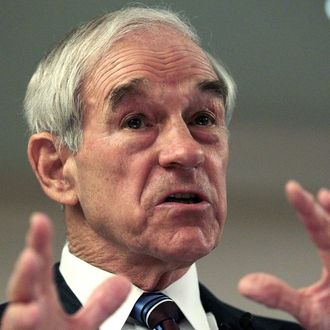 Photo: Justin Sullivan/2011 Getty Images
Despite (very narrowly) leading rivals ahead of the Iowa caucuses and the backing of an enthusiastic base, Ron Paul doesn't like his chances when it comes to winning the White House. Asked if he sees himself in the Oval Office, Paul said, "Not really, but I think it's a possibility."
"I don't deceive myself," Paul continued. "You know what the odds are. The odds have been slim."
Paul feels good about in his chances in Iowa. "I don't want to sound over-confident, but I am confident in our organization" in the state, he said.
But big-picture, the numbers don't bode well for the 76-year-old Texas congressman. According to a Des Moines Register poll, 48 percent of respondents consider Mitt Romney the most "electable" candidate in a general election — regardless of which candidate they support as a first choice — compared with 12 percent for Paul. At 13 percent, Newt Gingrich is the only other candidate to reach double digits.
Paul's Intrade shares aren't going for much now, either. He's currently given about a 3 percent chance to win the Republican nomination.
But Paul claims to be motivated as much to change politics in America as he is to become president. "I don't know why you have to separate the two," he told ABC News.
Related: Heilemann: How Ron Paul's Crank Appeal Could Hurt Romney Beyond Iowa
No, Really, Ron Paul Cannot Win