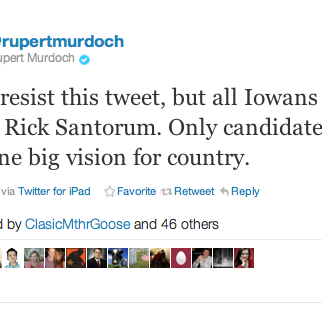 Count Rupert Murdoch among both active Twitter users and Rick Santorum's growing crowd of supporters. Murdoch dispatched his evaluation of a rising Santorum and the rest of the GOP field about four hours ago from his verified account, @RupertMurdoch, which appears to be about one week old.
But only 24 tweets into his social-media career, the embattled media mogul hasn't quite mastered the art of 140 characters. His message — "all Iowans think about Rick Santorum" — can be taken as either a comment about Iowans' state of mind, or a directive. Or maybe he left the comment about the former Fox employee intentionally vague.
The New York Times notes that the message's platform is significant because it can be easily shared and discussed on the eve of the Iowa caucuses, but as of present, the message has been retweeted by only 46 people, a scant amount considering he has nearly 77,000 followers already.
Keep an eye on Murdoch's account for more political commentary and even some reviews of family films. The other day he wrote, "I LOVE the film 'we bought a zoo', a great family movie. Very proud of fox team who made this great film."