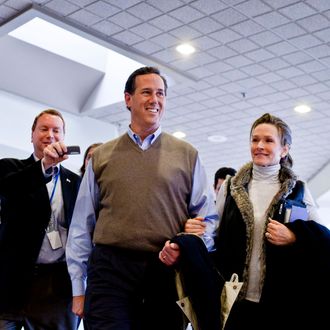 The Santorums.
Photo: T.J. Kirkpatrick/Getty Images
Hopeless but semi-validated GOP candidate Rick Santorum is known for his extreme religious views, which lead to an obsessive opposition to gay marriage and abortion. His wife, a mother of seven, shares those beliefs and wrote a book about the couple's late-term miscarriage called Letters to Gabriel. But despite now opposing abortion even in cases of rape, Karen Santorum (née Garver) spent her early twenties dating an obstetrician who helped start a "therapeutic abortion" clinic before the passage of Roe v. Wade. What's more, Dr. Tom Allen, who was 40 years Garver's senior, delivered Garver himself in 1960.
Dr. Allen speaks to Newsweek in the magazine's new issue, where he describes getting to know Garver after she rented a room above his office when she was a 22-year-old nursing student and he was 63. Their relationship included some talk about abortion, and one of the doctor's former patients says Garver was "supportive" of her choice. The unlikely couple also took trips to Europe and Hong Kong together.
Unusual though the affair may seem now, Allen says it "really wasn't that big a deal, at least to me." It was the '80s, after all, and he'd had a number of young girlfriends before Garver; his wife Judi is 30 years younger than he. "My first marriage didn't do very well because of that behavior," he concedes.

He and Karen lived above the office together for nearly five years, until the house in which Allen now resides was finished after a lengthy renovation (the couple broke up a few months after they moved into the house). Photographs of them together throughout those years show her as a fresh-faced, freckled young woman with wavy hair and a shy grin that grew more confident after Allen paid to have her teeth straightened.
Ah, youth.