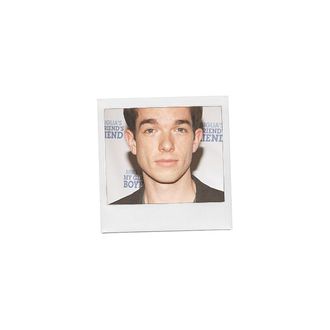 John Mulaney
Photo: Patrick McMullan
Name: John Mulaney
Age: 29
Neighborhood: West Village
Occupation: Comedian & Writer-Producer at Saturday Night Live. His one-hour stand-up special New In Town premieres on Comedy Central this Saturday, January 28, at 10 p.m., with the album and DVD for sale January 31.

Who's your favorite New Yorker, living or dead, real or fictional?
Simon Rich. He is alive and real but may as well be fictional.


What's the best meal you've eaten in New York?
The octopus thing they have at Dell'Anima. Go there. Everything is delicious.
 
In one sentence, what do you actually do all day in your job?
I spend most of the day switching elevators to go from our offices on the 17th floor to the studio on the 8th floor. I've spent more time doing that than writing anything.
 
What was your first job in New York?
I was an intern at Comedy Central.
 
What's the last thing you saw on Broadway?
The Book of Mormon.
 
Do you give money to panhandlers?
Yes.
 
What's your drink?
I am a recovering alcoholic. It's actually a really sore subject. You've got a lot of nerve asking me that, etc. etc.
 
How often do you prepare your own meals?
Semi-often. I just got an ice-cream maker and a waffle-maker for Christmas! I'm going to be 1949's Best Mom!
 
What's your favorite medication?
Tylenol PM.  
 
What's hanging above your sofa?
A white stag head.
 
How much is too much to spend on a haircut?
My girlfriend is a makeup artist and hairstylist, and cuts my hair for free. I would promote her here but I totally forgot her name.
 
When's bedtime?
After ice cream.
 
Which do you prefer, the old Times Square or the new Times Square?
I would like to see a merging of old and new Times Square, where gay cowboy hustlers cruise through the M&M store.
 
What do you think of Donald Trump?
Buy my first album The Top Part to hear my thoughts on him. I took on Trump in front of tens of people.
 
What do you hate most about living in New York?
There are no good restaurants.
 
Who is your mortal enemy?
Andy Samberg. We bicker night and day, but it might just be because I'm in love with him. Sigh.
 
When's the last time you drove a car?
I'm driving as I type this.
 
How has the Wall Street crash affected you?
All my money is in a Savings Account. My Dad has explained the stock market to me maybe 75 times. I still don't understand it. And I now think it's not my fault.
 
Times, Post, or Daily News?
Post, Post, Post. Andrea Peyser is the closest thing we have to Mark Twain. And based on her picture she seems fun too!
 
Where do you go to be alone?
The Bubba Gump Shrimp Factory at 44th Street and Broadway.
 
What makes someone a New Yorker?
If they are a resident of the sanctioned five boroughs of New York City, N.Y., and/or the outlying suburbs.