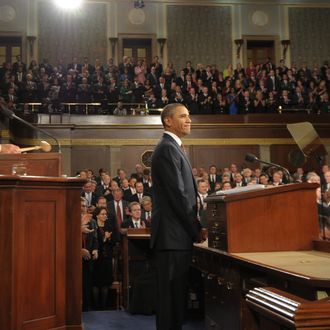 There was also the time President Obama walked in, but we're not counting that.
Photo: Saul Loeb-Pool/Getty Images
There were over 50 rounds of applause during the State of the Union last night. Some of them were brief and obligatory. Many took the form of standing ovations, lasting around twelve to fifteen seconds. But the issues that Congress — or at least, certain factions in Congress — is really passionate about received standing ovations of sixteen seconds, seventeen seconds, or even longer. Would it surprise you to learn that the two longest rounds of applause last night were directed at our "men and women in uniform"? No, it would not.
36 seconds: "Above all, our freedom endures because of the men and women in uniform who defend it."
20 seconds: "Mr. Speaker, Mr. Vice-President, members of Congress, distinguished guests, and fellow Americans, last month I went to Andrews Air Force Base and welcomed home some of our last troops to serve in Iraq …. We gather tonight knowing that this generation of heroes has made the United States safer and more respected around the world."
20 seconds: "I'm a Democrat. But I believe what Republican Abraham Lincoln believed, that government should do for people only what they cannot do better by themselves, and no more."
18 seconds: "For the first time in two decades, Osama bin Laden is not a threat to this country."
18 seconds: "And in return, grant schools flexibility: to teach with creativity and passion; to stop teaching to the test and to replace teachers who just aren't helping kids learn. That's a bargain worth making."
17 seconds: "This country needs an all-out, all-of-the-above strategy that develops every available source of American energy."
17 seconds: "In the last 22 months, businesses have created more than 3 million jobs."
16 seconds: "The opponents of action are out of excuses. We should be working on comprehensive immigration reform right now."
16 seconds: "That means women should earn equal pay for equal work."
16 seconds: "I intend to fight obstruction with action, and I will oppose any effort to return to the very same policies that brought on this economic crisis in the first place."
16 seconds: "Now, I'm confident a farmer can contain a milk spill without a federal agency looking over his shoulder."
16 seconds: "We need to change our tax code so that people like me, and an awful lot of members of Congress, pay our fair share of taxes."