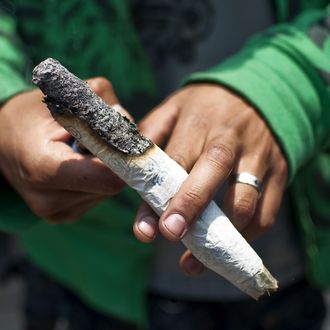 A man lights marijuana during a demo in support of the legalization of marijuana, in Mexico City, on May 7, 2011. Hundreds of youngsters marched in several events throughout Latin America, under the slogan "Cultivate your rights".
Photo: Ronaldo Schemidt/AFP/Getty Images
A government study, one of the most extensive examinations ever of the long-term effects of marijuana use, has found that smoking one joint a day for 7 years, or one joint a week for 49 years, does not impair lung function. In fact, "marijuana users performed slightly better on the lung function test" than people who don't smoke anything. The study did not measure the effects of smoking a joint the size of a zucchini.