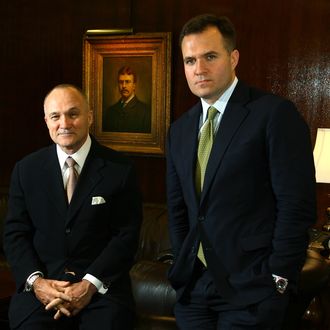 Photo: Ron Antonelli/NY Daily News Archive via Getty Images
Since the accusation surfaced last week, the potential rape case against local TV anchor Greg Kelly, son of NYPD Commissioner Ray Kelly, has been poked full of holes by New York City's rabid tabloid media. The New York Post reports today, again via anonymous sources, that so far "there are no facts in favor of [prosecuting]" Kelly, while the Daily News quotes an unnamed person predicting, "It could be over this week — no later than next week." Although journalistic tradition in the United States prevents outlets from naming accusers in sexual assault cases, details continue to trickle out about her life, with the Daily News painting a pretty full picture of another starring character in the story — the accuser's angry boyfriend.
At this point, the story as we know it includes a heated confrontation between the boyfriend and Commissioner Ray Kelly, in which the man told the police chief that his son "ruined my girlfriend's life." The woman reportedly became pregnant from the alleged rape and had an abortion; she told her boyfriend after the procedure and then came forward to police three months after the alleged crime. The Post says that her interviews with the Manhattan district attorney are weakening her case, as are the seventeen texts she exchanged with Kelly.
"This is such a common kind of situation, a delayed report driven by a boyfriend or husband after finding out what happened," says a Post source. (The Post's parent company News Corp. owns Fox, which employs Kelly.)
The Daily News says the boyfriend was "furious" when he found out about the encounter and the paper goes even deeper into the boyfriend angle, describing him as "a larger-than-life character who has sailed around the world, won marathons and swam with sharks." Although they note specifically that his name is being withheld, plenty of identifying details are provided:
The rugged, 48-year-old has made a living as bartender, teacher, photographer and even beekeeper.

He is a rugby player whose amateur team plays hard and parties harder. They proudly take responsibility for single-handedly ending a famous restaurant chain's all-you-can-drink policy. …

Along with a circle of athletic buddies that include a hedge fund analyst and a reality show contestant, he set two world records last year.

He was also one of the 200 fastest runners in last year's New York City Marathon.

According to a 2009 interview, he is an expert sailor who once set off on a two-year solo trip around the world. He ran a beach bar on a remote Pacific island and relishes telling of the time he fought off a shark while diving.
An amateur online sleuth could likely track this man down quite easily, perhaps beginning with the marathon results. From there, the woman's identity is potentially discoverable as well. So far, she's just described as a 30-year-old aspiring actress and model who works at a law firm downtown and has a brother who works as an NYPD sergeant.
But the latest public rape cases, including separate claims against Dominique Strauss-Kahn, Julian Assange, and two NYPD officers, each raised distinct issues when it comes to identifying the accuser. In the cases against both DSK and Assange, the accusers' identities were made public in the international press. Nafissatou Diallo later made her case against Strauss-Kahn publicly in an attempt to salvage the unraveling case, a move that led to increased scrutiny, but no criminal charges. In the Assange case, which is ongoing, the domestic press argued about the right to privacy.
The tabloids, meanwhile, have mostly avoided such hand-wringing by not naming names, but running freely with personal information, even the sort which has sometimes proven to be thinly sourced at best. When two cops were acquitted raping an East Village woman, for instance, the Post tracked the "fashion exec" down in San Francisco, where she moved to avoid the media's glare, and printed a photograph of her on the cover with her face slightly pixelized.
If the Kelly case is indeed winding down already, as the Post and Daily News report, expect those same local tabloids to wring the last drops from the story; the colorful details about the "furious" boyfriend are probably only the beginning. As a public figure accused of rape, Kelly's reputation has already been somewhat tarnished and the details of his life aired out. But if charges are not filed against him, it's the accuser and those close to her who can expect the media glare moving forward, whether or not she decides to go public herself.