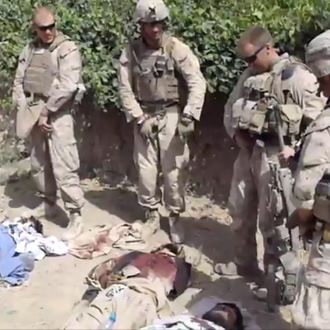 There's never a good time for a video of U.S. Marines urinating on Taliban corpses to be released on the Internet, but with the United States on the cusp of restarting delicate peace talks with the Afghan Taliban, yesterday was a particularly not-good time. But, surprisingly, the Taliban seems barely fazed by the footage (which has been tentatively confirmed as authentic by NATO):
A Taliban spokesperson told Reuters that despite the shocking nature of the acts depicted in the video, it was unlikely to affect negotiations between the United States and the Taliban on ending the war in Afghanistan. "This is not the first time we see such brutality," said the spokesman, Zabihullah Mujahid. "We know that our country is occupied."
Not that the urination video isn't a big deal and a major disgrace — the soldiers, who are reportedly back stateside, could face criminal charges — but we guess when you're a group that doesn't think twice about throwing acid in a small girl's face, it takes a lot to shock you.