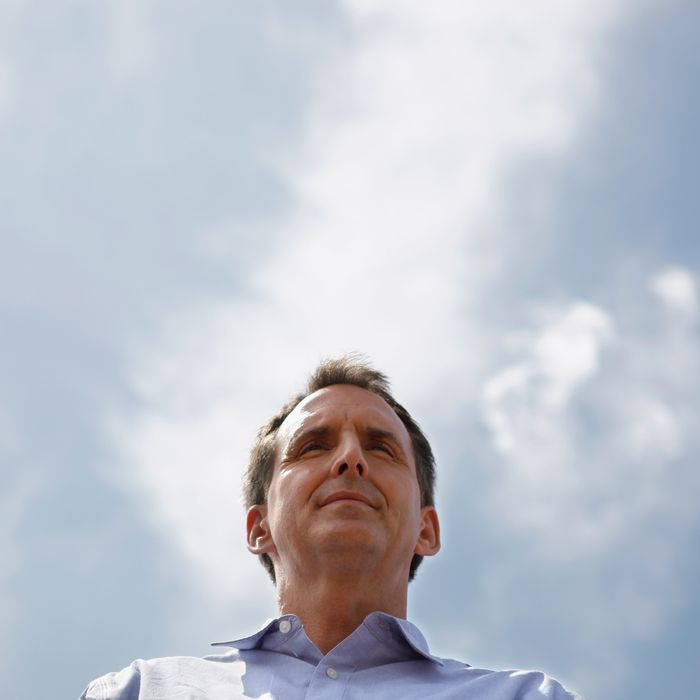 Photo: Chip Somodevilla/2011 Getty Images
Via a source deep within the Pawlenty family, Daily Intel has acquired the private diary of Tim Pawlenty. Below, the former presidential candidate's entries from January 3, the day of the Iowa caucuses.

9:00 a.m.: Wake up late, let loose an effenheimer, and worry I've missed my shot at Morning Joe. Check the Blackberry … no e-mail from Mika, Willie, Barnacle, and the gang. Maybe they're getting kicked into my spam folder? Haven't seen much of them since I dropped out in August.
9:15 a.m.: Knock my elbow on my campaign book, which I took to bed with me last night. Roll my eyes when I see the book's title — Courage to Stand — and go back to sleep.
10:00 a.m.: Wake up again. Stumble to the bathroom. Look in the mirror. Reach for my razor, but then decide, what's the point?
12:00 p.m.: Call Mitt, my endorsed, and see if he wants me to stand by his side tonight in Iowa. He pretends we have faulty reception and says he'll call back later. 
6:30 p.m.: Mary tries to lift my spirits by asking if I want to eat fried butter on a stick while I watch the caucus results roll in. Last time I had it was at the Iowa State Fair. Too many memories. I decline. 
7:00 p.m.: Phone rings, and it's a reporter asking whether I regret dropping out. "I didn't have any money! I couldn't have stayed in!" I scream at him, and hang up. I dig out my laminated copy of Matthew Jaffe's ABC News report, "Pawlenty Backers Rue Early Withdrawal From GOP Race." I pet it once or twice. "I do wish I stayed in the race," I whisper into the darkness. "I do."
7:30 p.m.: Doctor has forbidden me from watching cable news, but I can't resist. Michele Bachmann is giving a speech. She beat me at Ames, precipitating my withdrawal, and tonight she's going to come in dead last. 
7:38 p.m.: They're counting votes now. Yell at Mary from across the house to bring me the vanilla schnapps she has taken to hiding from me. She asks what happened to the days when I would only have two and a half beers on a bad night. I ask her what happened to the days when I wasn't among the 8.6 percent of Americans for whom Barack Obama has failed to find employment. 
8:38 p.m.: What's the difference between a Santorum and a Pawlenty? One spent New Year's surging, the other spent it buying a new surge protector for the living room! This is the kind of hilariously wholesome humor that demands a national platform. 
9:02 p.m.: Sarah Palin is on Fox News. I am sitting in an open robe, watching C-SPAN alone in the dark. What do I have to do to reverse this situation? Shoot a wolf from a helicopter? Because I'll do it. I'll shoot whatever they need me to shoot. 
10:43 p.m: Rick Santorum is up 109 votes with 96 percent reporting. Rick Santorum, a guy who was even more cash-starved and less popular than I was when I dropped out. Rick. Santorum. 
11:40 p.m.: The Romney family is on TV, and gosh, are they handsome. Now I understand why he didn't want me up there. 
12:24 a.m.: Mary went to sleep a while ago, but I can't tear myself away from the TV screen. Where did I go wrong? How could I have let my rational assessment of my infinitesimal chance at success get in the way of my destiny? Suddenly I am struck by an epiphany. Next time I will follow in the footsteps of Newt, Ron, and the Ricks. I shall not bow to reason. It's only 578 days until the next Ames Straw Poll. I cinch my bathrobe tight and whisper a solemn vow:

The Vanilla Thrilla will rise again!