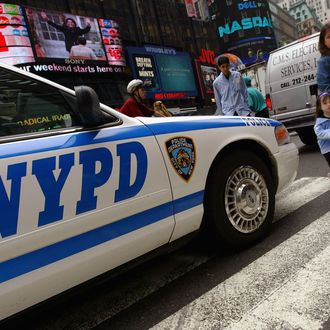 Photo: Spencer Platt/2004 Getty Images
After a Christmastime visit to Macy's, 21-year-old Aaron Vansintjan was meeting some friends up at the Cloisters when he was arrested at gunpoint. A Belgian student at McGill University in Montreal, Vansintjan made a second common tourist mistake (after going to Macy's) and took the long way to the museum from the nearest subway stop, which requires walking up a big ramp. "I was catching my breath for about 15 seconds," he explains in today's New York Times. "Someone ran at me with a gun drawn, screamed at me to get down to the ground, pushed me onto my knees, and then put my face in the ground." A group of officers then led him the rest of the way up. "I was under the impression that it was very illegal to walk up the hill," Vansintjan said.
In fact, someone had identified him as the burglar in the theft of a Macy's bag that it turned out never happened. The accuser was sent to a psychiatric hospital, but no one told the kid that. Instead, Vansintjan was interrogated and scolded for his antique pocketknife. He says police never explained to him his right to stay silent or get a lawyer.

The wrongfully accused tourist was eventually released in the evening, but probably wouldn't have been "[i]f I weren't white," Vansintjan said; he noticed that everyone else in his holding cell was of color and being held on marijuana charges. Hopefully he'll go home and tell his friends just how wacky and fun New York City can be.