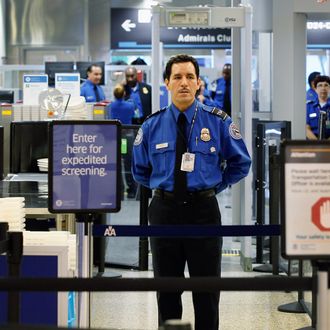 Photo: Joe Raedle/2011 Getty Images
The New York Post is totally losing it today over a TSA "botch at LaGuardia" in which a pair of suspicious six-inch pipes with "springs" inside were forgotten for hours at the airport. The "potential pipe bombs" were removed from a passenger's luggage, but he assured agents they were a tool for homeopathic medicine and was allowed to board his plane. The pipes, though, remained behind, sitting on a radiator in the screening area for six hours.
"When I saw the image [on the X-ray machine], I took a step backward and said, 'What's that?!'" a TSA employee reportedly told police. But it wasn't until three hours later that a supervisor called a bomb specialist, who took two more hours to show up. The bomb squad eventually took the objects away and deemed them not dangerous.
The TSA said the little tubes were "voluntarily surrendered" and that they only called the cops "out of an abundance of caution." With the pipes already on hand, maybe the agents were just hoping for the other half of that "homeopathic" treatment to come through.