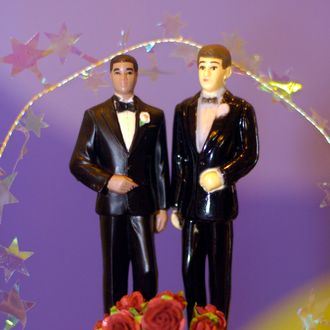 Tastes like EQUALITY. And vanilla.
Photo: Ron Wurzer/Getty Images
With the decision of state senator Mary Margaret Haugen to support legislation legalizing gay marriage, Washington is now all but certain to become the seventh state (plus D.C.) to allow same-sex nuptials. Governor Chris Gregoire announced her support for the legislation less than three weeks ago, it has enough votes to pass in the House, and Haugen's backing will push it over the top in the Senate. Her statement is pretty special:
To some degree, this is generational. Years ago I took exception to my parents' beliefs on certain social issues, and today my children take exception to some of mine. Times change, even if it makes us uncomfortable. I think we should all be uncomfortable sometime. None of us knows everything, and it's important to have our beliefs questioned. Only one being in this world is omniscient, and it's not me.

I have very strong Christian beliefs, and personally I have always said when I accepted the Lord, I became more tolerant of others. I stopped judging people and try to live by the Golden Rule. This is part of my decision. I do not believe it is my role to judge others, regardless of my personal beliefs. It's not always easy to do that. For me personally, I have always believed in traditional marriage between a man and a woman. That is what I believe, to this day.

But this issue isn't about just what I believe. It's about respecting others, including people who may believe differently than I. It's about whether everyone has the same opportunities for love and companionship and family and security that I have enjoyed.

For as long as I have been alive, living in my country has been about having the freedom to live according to our own personal and religious beliefs, and having people respect that freedom.

Not everyone will agree with my position. I understand and respect that. I also trust that people will remember that we need to respect each other's beliefs. All of us enjoy the benefits of being Americans, but none of us holds a monopoly on what it means to be an American. Ours is truly a big tent, and while the tent may grow and shrink according to the political winds of the day, it should never shrink when it comes to our rights as individuals.
But what about the threat of gay marriage to the sanctity of Newt Gingrich's ability to marry a woman, cheat on her, divorce her, marry his mistress, cheat on her, ask her for an open marriage, divorce her, and marry his second mistress? What about that?