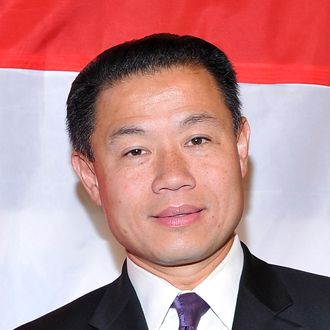 Photo: Marc Stamas/Getty Images
We here at Intel are starting to feel a strange affection for John Liu. Monday was his birthday, and he threw himself a fund-raiser; instead of dancing around the campaign finance scandal that's bogging down his campaign, he joked, "My name recognition's going up." He just really doesn't give a damn what anyone thinks of him. (Unless they're bearing cash, of course, in which case he wants them to love him!) The investigative reporters at the Times surely feel similarly: He is a reporter's gift that keeps on giving! Not only have they been able to keep rolling out story after story detailing Liu's sketchiness, he hasn't even covered his tracks all that well. Today's Moment of Liu:
Since his election to the city comptroller position in 2009, Mr. Liu has showered people and groups with official commendations, handing out more than 760 — with nearly one-quarter of the recipients connected to his political campaign, according to an analysis conducted by The New York Times.

A Liu donor who runs a business importing hair from China to make wigs got one. So did a travel agent who has booked busloads of gamblers on trips to the Mohegan Sun casino in Connecticut and backed Mr. Liu's campaigns.
Hey, people who help the follicly challenged and who facilitate gambling are American heroes. Why shouldn't he treat them as such?