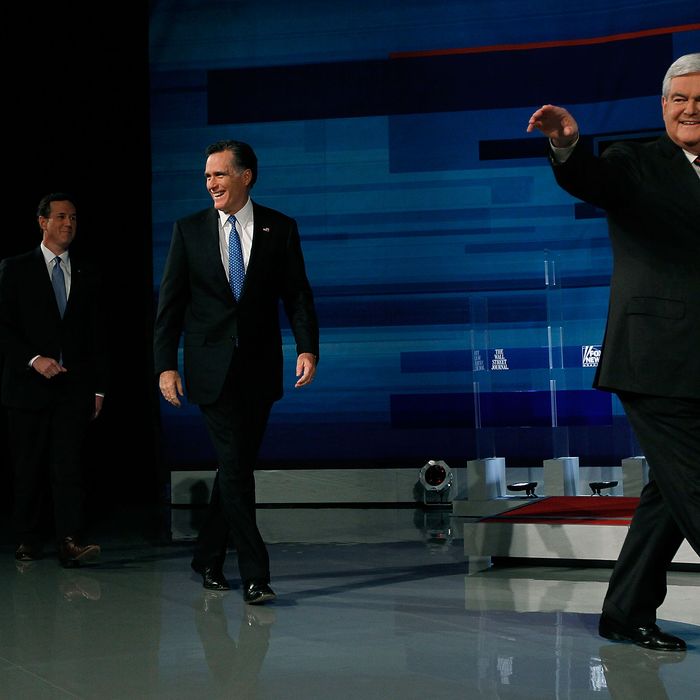 Republican presidential candidates Rick Perry, Rick Santorum, Mitt Romney, and Newt Gingrich walk onstage before the debate in Myrtle Beach, South Carolina. (Photo by Joe Raedle/Getty Images)
Photo: Joe Raedle/2012 Getty Images
Mitt Romney and four other guys who will definitely lose the nomination to him came together in Myrtle Beach, South Carolina, tonight for the primary season's sixteenth debate. It was the first debate since Jon Huntsman dropped out of the race, and therefore included 70 percent less eyebrow-arching than America has become accustomed to. Nevertheless, it was not a total waste of time. Newt Gingrich received a standing ovation for defending his plan to let children work as janitors. Romney stuttered his way through a grudging commitment to release his tax returns, probably. And Ron Paul was booed for being the only politician in America who isn't sure we should have killed Osama bin Laden. Relive those moments and many more in our roundup of the debate's best and worst moments. 
Number of Times Newt Gingrich Said the Word Reagan in His Very First Answer: Three.
Number of Times Anyone Said the Word Bush: Two.
Most Easily Disproven Lie: According to Mitt Romney, "We have a president in office for three years, and he doesn't even have a jobs plan yet!" Here is President Obama's jobs plan, the one he unveiled in a nationally televised address to Congress and then talked about incessantly for months. 
Legislation That Would Also Work Best As a Bagel Special at a Deli in D.C.: "Sarbanes Loxley," which is what Ron Paul seemed to call the Sarbanes-Oxley Act.  
Most Unexpected Topic of Extended Discussion: Felon voting rights, which Rick Santorum and Mitt Romney debated for four minutes:
Top Three Most Baseless Claims Made About President Obama:
3. Obama "wants to turn American into a European-style social welfare state." — Mitt Romney. 
2. Unlike President Obama, the GOP candidates "actually think work is good." — Newt Gingrich.
1. "What bothers me more than anything is this administration and this administration's disdain, all too often, for our men and women in uniform." —  Rick Perry.  
Most Confusing Claim Made About Anyone: "Only the elites despise making money." — Newt Gingrich. 
Most Positive Audience Reaction: Newt Gingrich's impassioned defense of his plan to give janitorial jobs to school children, for which he received the night's only standing ovation:
Most Condescending Newt Gingrich Moment:
Most Absurd Answer to the Question, "What Is the Highest Income Tax Rate Any American Should Have to Pay?": "We should have the lowest tax that we've ever had, and up until 1913 it was zero percent, how about that?" – Ron Paul, suggesting that the government collect no income taxes at all. 
Remark Most Appropriate for a Debate in 1861: "South Carolina is at war with the federal government." – Rick Perry. 
Most Awkward Audience Reaction:  When some in the crowd appeared to boo the mere mention of Mexico:
Most Qualified, Hesitant Commitment: Mitt Romney promising to leaving the door open to probably releasing his tax returns sometime around April, maybe, possibly: 
"I hadn't planned on releasing tax records because the law requires us to release all of our assets, all the things we own. That I have already released. It's a pretty full disclosure. But, you know, if that's been the tradition and I'm not opposed to doing that, time will tell. But I anticipate that most likely I am going to get asked to do that around the April time period and I'll keep that open …. I think I've heard enough from folks saying, look, let's see your tax records. I have nothing in them that suggests there's any problem and I'm happy to do so. I sort of feel like we are showing a lot of exposure at this point. And if I become our nominee, and what's happened in history is people have released them in about April of the coming year and that's probably what I would do."
Best Near-Reference to Seinfeld: "Elaine Bennett runs a program called Best Friends." —  Rick Santorum
Least Popular Thing Anyone Said: Ron Paul seeming to argue that we shouldn't have killed Osama bin Laden in Pakistan, for which he was booed. 
Biggest Understatement: "I'm not the great hunter." – Mitt Romney, asked whether he has gone hunting since 2007. 
Least Diplomatic Foreign Policy Remark: Rick Perry claiming that Turkey, a country he's maybe vaguely heard about at some point, is run by "Islamic terrorists." 
Nicest Thing Anyone Said About President Obama: Mitt Romney said he trusted that President Obama would not abuse his power to indefinitely detain American citizens. 
Winner: Newt Gingrich.
Loser: Ron Paul.