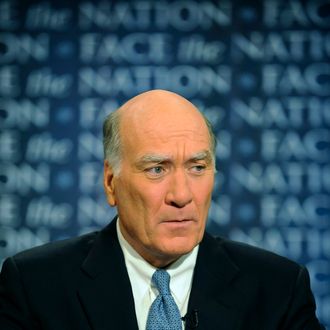 Daley.
Photo: Handout/CBS News
White House Chief of Staff Bill Daley is stepping down, to be replaced by budget director Jack Lew, to whom he'll officially hand over the baton at the end of the month. Though Obama took away some of Daley's day-to-day operational duties in November, today's move comes as a surprise, reports the L.A. Times.
Daley's formal resignation is dated January 3, shortly after he returned from a brief vacation with his family in Mexico.
His appointment was meant to signal a peaceable tack toward the center, but the practical consequence of Obama's focus on finding a bipartisan solution to the budget crisis was a protracted, dispiriting stalemate in Washington, and the growing perception among voters that Obama doesn't have what it takes to be a strong leader.
Lew, for his part, comes billed as a pragmatic liberal the GOP can deal with — the opposite of the centrist-they-hate reputation that Daley got tagged with. He also played a key role in this summer's budget negotiations. And, Ben Smith wrote, he enjoys staking out a place at the "particular intersection of politics and policy. "

"The thing that I learned early on was there's a space in Washington that is not deeply populated, which is a bridge between the highly technical and the political," he said. "You didn't have to be the best politician, and you didn't have to be the best numbers cruncher or analyst. But if you could be fluent in both worlds and respected enough in both worlds, you could have an opportunity to be a translator and to make a difference.

"I can lay out complicated ideas so that people can see where they agree and where they disagree and not have fights that they don't agree on and see the things that they want to work together on and identify where the differences are," Lew said. "That kind of civil discourse and that translating between technical and political — it's not divorced from having a worldview."
Lew's also a staunch New Yorker: As of this summer, he'd continued to commute from his Riverdale home rather than actually live in Washington, but presumably with the new job, Lew will have to plant himself a bit more firmly inside the Beltway.
Related: Obama's Greatest Political Blunder
Daley's Demotion: How Washington Elites Got Obama Wrong