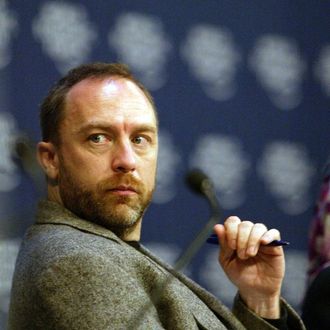 Wikipedia founder Jimmy Wales announced on Twitter today that the English version of the heavily-trafficked free online encyclopedia will be going black for 24 hours on Wednesday, January 18, in protest of the controversial anti-piracy bills in Congress, Stop Online Piracy Act (SOPA) and a similar senate measure, PROTECT IP Act (PIPA).
"Student warning! Do your homework early. Wikipedia protesting bad law on Wednesday! #sopa," Wales wrote lightheartedly. Instead of free articles on everything from the Tet Offensive to peanut butter and jelly sandwiches — some better sourced than others — web surfers will see instructions for how to reach local members of Congress. Wales hopes that the resulting public outcry will "melt switchboards."
The decision comes after robust discussion in the Wikipedia community about the bills. Although SOPA has been shelved, PIPA is still up for vote in the Senate next week. Tech gurus and online communities fear that even watered down versions of the bills will compromise the integrity of the Internet and amount to censorship.
Wikimedia Foundation's formal announcement reads:
On January 18, 2012, in an unprecedented decision, the Wikipedia community has chosen to blackout the English version of Wikipedia for 24 hours, in protest against proposed legislation in the United States — the Stop Online Piracy Act (SOPA) in the U.S. House of Representatives, and PROTECTIP (PIPA) in the U.S. Senate. If passed, this legislation will harm the free and open Internet and bring about new tools for censorship of international websites inside the United States.
Wikimedia's blackout will take place on the same day as Reddit.com's like-minded protest, which runs from 8 a.m. to 8 p.m. Other participants of the blackout include: BoingBoing.net, IHeartChaos.com, the entire Cheezburger Network, and possibly Mozilla websites.
Wales also noted on Twitter that Wikipedia's English version fetches 25 million daily visitors worldwide.
Things will be back to normal on January 19, when someone can write a Wikipedia article about the protest.

Related:
Anti-Piracy Bills in Congress Are Not Dead Yet