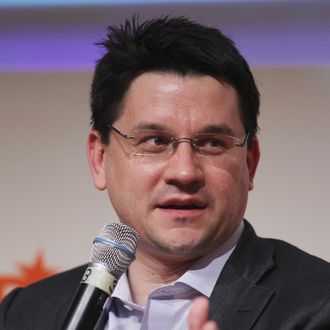 Is he sexy or skanky?
Photo: Johannes Simon/Getty Images
Marc Cenedella, the wealthy founder of job-search site TheLadders.com, is interested in giving back to his country. The Erie County Republican has privately told confidants that he plans to challenge Kirsten Gillibrand for her New York Senate seat. This seemed like a great idea to the GOP: Cenedella not only has a fancy résumé that includes degrees from Harvard and Yale and a self-made fortune, but he's also willing to spend plenty of that fortune on the campaign. The only problem is that Cenedella also has an Internet connection — a common convenience that has proved the downfall for a surprising number of politicians from the Empire State. (See: Weiner, Anthony, and Lee, Chris.)
Cenedella — or someone using his name — kept a personal blog (now removed) on TheLadders.com in which he offered up his opinion on a number of the most pressing issues of the day, reports the Times.
The entries had headlines like "Sexy vs. Skanky," "Dating Advice for Girly Girls," "He Stole My Weed" and "High Quality Dope."

In an entry titled "A New Holiday for Men," there was a link to a separate site that designates March 14 as a special occasion on which women are encouraged to offer steak and oral sex "to show your man how much you care for him."

Another entry linked to a site that purports to provide biblical justification for a man's having more than one wife. "I wasn't so sure about all this Bible stuff," the entry accompanying the link said, "but I'm starting to cotton to it."

Yet another entry was titled "Omarosa Jock Straps," and had a link to an article about a possible clothing line bearing the name of Omarosa Manigault-Stallworth, the villain of "The Apprentice."
Cenedella's reps told the Times that the blog was a "maintenance"  staging site on which content — randomly pulled from the Web — was tested. (Yet if you Google, say, "Omarosa Jock Straps," there are no results other than reports about Cenedella.) Will it sink him, though? Maybe not!
"There are a lot of people within our party encouraged by his candidacy," Nicholas Langworthy, chairman of the Erie County Republicans, told the Times.  "His overall life experience makes him an excellent candidate for the Senate." Because right now there is a tragic lack of GOP senators who have a good weed hookup, and, of course, the ability to distinguish between sexy and skanky will make him an instant asset to the delegation.