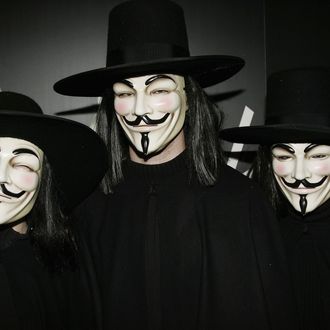 Photo: Dave Hogan/Getty Images
The amorphous hacker pack Anonymous, which recently partnered with Wikileaks for both groups' largest release in some time, saw 25 of its suspected "members" arrested across the world yesterday in a now familiar pattern. Interpol rounded up alleged illegal hacktivists ranging in age from 17 to 40, in Argentina, Chile, Colombia, and Spain, for cyberattacks against the countries' governments and politicians. Then the computer kids fought back by taking down Interpol's website. 
"TANGO DOWN?" wrote one Anonymous-affiliated Twitter account soon after, using the group's co-opted military terminology. "INTERPOL's website looks completely offline now … Could it be in response to 25 Anons arrested? Dunno." The message was followed by a mischievous-looking emoticon. This is what Anonymous does; it's not especially shocking, nor very damaging — the site appears to be working well this morning — but it's often the most immediate, simple recourse. As one author researching the group told the New York Times recently, "Anonymous is a handful of geniuses surrounded by a legion of idiots. You have four or five guys who really know what they're doing and are able to pull off some of the more serious hacks, and then thousands of people spreading the word, or turning their computers over to participate in a DDoS attack."
Interpol seized credit cards, cash, and 250 pieces of technology equipment from the hackers in yesterday's raid. "Interpol, you can't take Anonymous," another Twitter account wrote, sticking with a common refrain in those circles. "It's an idea." The individuals face charges that could put them in prison for 541 days to five years.