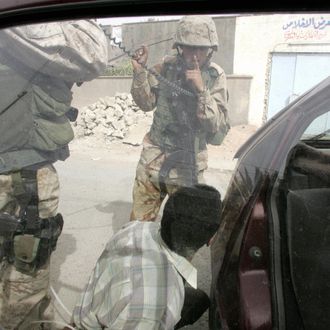 Hacker group Anonymous started the morning by posting the audio from an FBI conference call online, and further promised a "day of m4yh3m" (that's mayhem, for the uninitiated) during what they're calling #FuckFBIFriday. The hacktivists' follow-up is the release of three gigabytes of e-mail from Puckett Faraj, the law firm representing U.S. Marine Frank Wuterich, who was charged with leading troops in the killing of 24 unarmed Iraqi civilians. For the Haditha massacre, as it came to be known, Wuterich's deal with military prosecutors came with no jail time, the loss of some pay, and a demotion from staff sergeant to private. The Anonymous hack indicates that his lawyer was very pleased with how things turned out.
Other coordinated Anonymous attacks today include defacing the websites of the Boston Police Department and the Greek Ministry of Justice, but it's unsurprisingly the e-mail stash that's garnering the most attention and therefore the subject of most of the bragging. The hackers announced their bounty by infiltrating the Puckett Faraj website and posting the following message:
As part of our ongoing efforts to expose the corruption of the court systems and the brutality of US imperialism, we want to bring attention to USMC SSgt Frank Wuterich who along with his squad murdered dozens of unarmed civilians during the Iraqi Occupation. Can you believe this scumbag had his charges reduced to involuntary manslaughter and got away with only a pay cut?

Meanwhile, Bradley Manning who was brave enough to risk his life and freedom to expose the truth about government corruption is threatened with life imprisonment.

When justice cannot be found within the confines of their crooked court systems, we must seek revenge on the streets and on the internet – and dealing out swift retaliation is something we are particularly good at. Worry not comrades, it's time to deliver some epic ownage.
According to Gawker's peek at the e-mails, which include "detailed records, transcripts, testimony, trial evidence, and legal defense donation records," partner Neal Puckett thanked a friend who congratulated him on the plea deal, writing, "We were all over the TV and Internet. Google me!" Today, the results are quite different.
Update: Along with the info on Wuterich's case, the leak reportedly includes private files about clients like a detainee from Guantanamo Bay and a sexual abuse victim, plus presumably many more not intended as enemies of Anonymous.