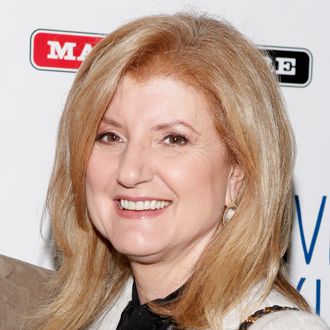 Huffington.
Photo: Cindy Ord/2011 Getty Images
The AOL-Huffington Post hybrid Transformer shed some important pieces today, including TechCrunch editor Erick Schonfeld, who was appointed less than six months ago in the Michael Arrington mess. "We're going to put our heads down and focus on the basics," says the tech site's announcement, which signals yet again more upheaval since AOL bought Arrington's baby, promising total editorial freedom, in 2010. He will be replaced by Eric Eldon.
Also out, All Things D reports, is AOL's CTO Alex Gounares, who moved over from Microsoft in May of 2010. A big hire for Gounares was Google engineer Tim Dierks, who came on at the Huffington Post Media Group in September, and has recently been working as the unit's chief technology officer. After less than half a year, Dierks is reportedly leaving as well.
"My job, as coach and captain, is to bring in multiple Michael Jordans," CEO Tim Armstrong told the New York Times over the weekend. It appears to be recruiting season.