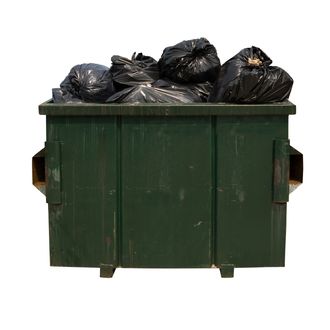 Dumpster isolated on white background with an accurate clipping path. Simply activate the path, transform it in a selection and copy it into your design.
Photo: Michael Krinke Photography
Assemblyman Dov Hikind believes that city sanitation workers have issued residents fraudulent tickets and he's been supplied with video evidence to try and prove the charge. At a news conference on Monday, Hikind played three surveillance tapes where sanitation workers allegedly wrote up residents for bogus infractions. One of the videos purportedly shows an agent issue a $100 ticket after merely kicking black garbage cans outside a Brooklyn man's home. But the agent left behind a note detailing the man's complete inability to properly recycle."If it is determined that the summonses were improperly served, appropriate actions will be taken," said a spokesman for the sanitation agency.