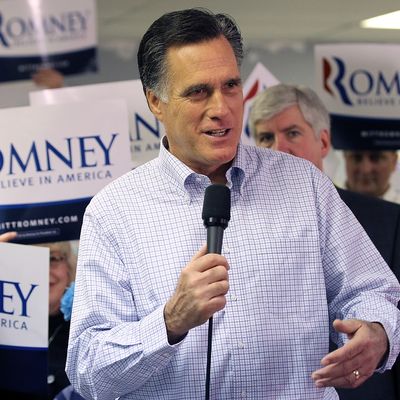 See, I'm electable.
Photo: Justin Sullivan/2012 Getty Images
With far less intrigue than Michigan's primary but a nearly identical number of delegates at stake (29 in Arizona versus 30 in Michigan), Arizona will back Mitt Romney in its winner-take-all primary.
CNN called it at exactly 9:00 p.m. based on its exit polling data, reporting that 44 percent of voters chose Romney against 27 percent who backed Rick Santorum. The New York Times projects a similar finish, with Romney expected to finish with 43.4 percent to 27.3 for Santorum. Newt Gingrich is in the picture with 19.2 percent.
The projections are consistent with advanced polling by PPP which pegged Romney to secure 43 percent of the vote to Santorum's 26 percent.
Romney had the endorsement of Arizona governor Jan Brewer, Arizona senator and former rival John McCain and Representative Jeff Flake, who's running for Senate, campaigned "vigorously" on Romney's behalf.
Although viewed as a foregone conclusion, some pundits believe that Romney's victory is still an important win, because he picks up another 29 delegates. It hasn't been pretty or inspiring, but Romney still has a significant delegate lead over the field with 123 (not counting Arizona or Michigan) to Santorum's 72. (The Florida delegates are still being apportioned.)
Exit polls do show that Romney struggled with Hispanics, Nate Silver points out. Romney is expected to earn 33 percent of the Hispanic vote, roughly 10 percent less than he's projected to win of the total vote.
Voters identifying themselves as very conservative supported Romney and Santorum equally with 38 percent, while somewhat conservative voters went with Romney over Santorum by a 49 to 25 percent.