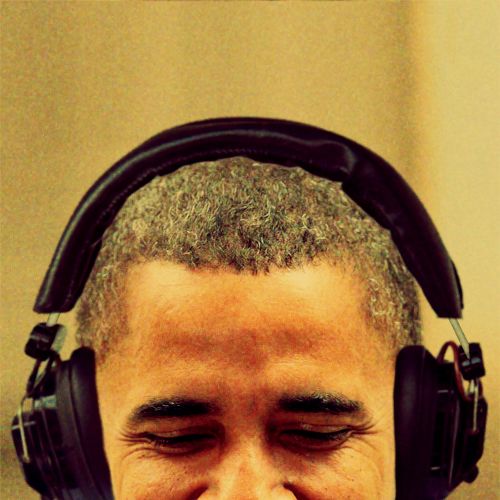 Photo: Photos: Bruno Vincent/Getty Images, iStockphoto
Barack Obama's online presence is no longer limited to Twitter, Facebook, Flickr, and Instagram. The president of the United States now has a Spotify account, which he announced via his Tumblr, obvs. He's made you a mixtape, America!
The complete playlist, in order.
"Different People" — No Doubt
"Got to Get You Into My Life (Live version!)" — Earth Wind & Fire
"Green Onions (Single/LP Version)" — Booker T. & The MG's
"I Got You" — Wilco
"Keep on Pushing" (Single version) — The Impressions
"Love You I Do" — Jennifer Hudson (Dreamgirls)
"No Nostalgia" — AgesandAges
"Raise Up" — Ledisi
"Stand Up" — Sugarland
"This" — Darius Rucker
"We Used To Wait" — Arcade Fire
"You've Got The Love" — Florence + The Machine
"Your Smiling Face" — James Taylor
"Roll With The Changes" — REO Speedwagon
"Keep Marchin'" — Raphael Saadiq
"Tonight's The Kind of Night" — Noah and the Whale
"Keep Me In Mind" — Zac Brown Band
"The Weight" — Aretha Franklin
"Even Better Than The Real Thing" — U2
"Home" — Dierks Bentley
"Everyday America" — Sugarland
"Learn To Live" — Darius Rucker
"Let's Stay Together" — Al Green
"Mr. Blue Sky" — Electric Light Orchestra
"My Town" — Montgomery Gentry
"The Best Thing About Me Is You" — Ricky Martin
"You Are The Best Thing" — Ray LaMontagne
We Take Care of Our Own - Bruce Springsteen
Now, the remarkably rap-free compilation, which will play during Obama's 2012 campaign events, was probably put together by whatever 25-year-old staff member got the assignment. It was obviously meant to appeal to as many people as possible, not just reflect Obama (see: all the country songs) and also include as many cutesy references to seeking reelection as possible.
But we have to say, the anonymous staff D.J. did a pretty good job of aping the musical tastes of a certain kind of middle-aged nerd. Wilco! Arcade Fire! The Hootie and the Blowfish guy!  We'd like to imagine that Obama picked out at least a couple of these himself. Unfortunately, any attempt to make him seem cool was seriously undermined by the inclusion of this song. (And we say that with all due respect to the Ricky Martin back catalogue.)