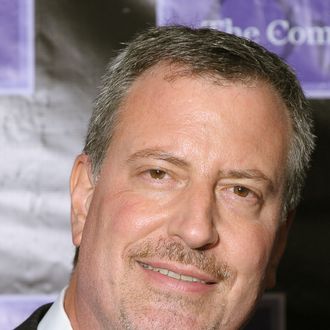 Photo: Michael Loccisano/Getty Images
New York City public advocate Bill de Blasio has hired political consultants linked to Democratic heavyweights like Rahm Emanuel, Bill Clinton, and Barack Obama, indicating that he's probably pretty serious about running for mayor in 2013. While de Blasio has not yet announced his official intentions, expectations have been bolstered by his fund-raising success, including a haul of $1 million in the the latter half of 2011. Now he's ready to start spending. 
Today de Blasio is expected to announce the hiring of John Del Cecato, who is currently working on the president's reelection campaign, to make TV ads, as well as pollster Anna Greenberg, who worked on Emanuel's campaign for mayor of Chicago. "[De Balsio] just seems rooted in a real way in the city — he has kids in public schools, he's from Brooklyn, he knows about grass-roots organizing," Greenberg told the Times. "He feels like the right person at the right time, when the city is in transition."
Her comments are in line with New York's own Chris Smith, who noted late last year that if scandal-plagued John Liu stays out of the race, de Blasio will be the only outer-borough candidate. For now, the Brooklyn Democrat, who also hopes to fill the void left by the lack of a Latino candidate, is way behind the likes of 2013 hopeful Christine Quinn in name-recognition, but that's what the money is for.
Related: Who Will Win the 2013 New York Mayoral Election? [NYM]