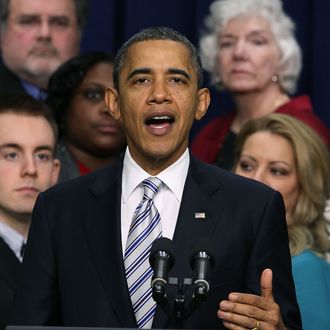 Photo: Mark Wilson/Getty Images
Comedian Bill Maher brought out one of those oversize checks last night during his CrazyStupidPolitics: Live from Silicon Valley special, and announced he's donating $1 million to Priorities USA Action, a Barack Obama super PAC.  "This is the wisest investment I think I could make," said Maher, urging other rich liberals to do the same, because beating the current crop of Republicans is "worth a million dollars." The president's reelection campaign, meanwhile, is already spending big bucks themselves. 
For the month of January, the Obama campaign blew through $17.7 million, the New York Times reports, including $4.3 million on Internet ads, $3.4 million on television ads, $2.8 million on mailers, and $1.4 million on telemarketing, making sure all mediums were covered. Those expenses trump even Mitt Romney, who is locked in a primary battle and spent $14 million for the month, in which he went two-for-four in Republican primaries.
While Romney's "burn rate" has been questioned, the Obama campaign is reportedly holding some $76 million — apart from Maher and friends' super PAC money — so they're probably not sweating the spending.