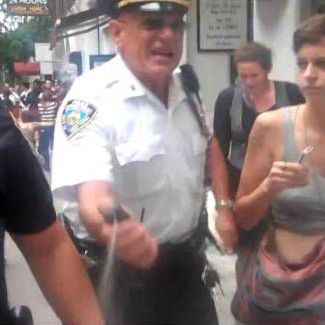 The unintentional stars of the video that catapulted Occupy Wall Street into the national media are suing the city. Chelsea Elliott and Jeanne Mansfield were seen screaming in pain in a clip from a September protest after NYPD Deputy Inspector Anthony Bologna walked over to the orange netting where they were peacefully corralled and casually pepper sprayed them in the face. Now they're seeking unspecified damages for pain and suffering.
The video, and Bologna's identity, spread rapidly online and in the news, kicking off a pattern for the protests in which police violence highlighted, but also often threatened to overshadow, the demonstrators' themes of income inequality. Bologna came up with a lame excuse and was docked ten vacation days for "using pepper spray outside of department guidelines," but a Manhattan district attorney investigation has so far resulted in exactly nothing.
"We've given them more than enough time to follow up on this," said the lawyer for the women about the wait to file the lawsuit.
"I was attending a peaceful demonstration when I was met with what I feel was an undue amount of force," said Mansfield. "I think he allowed his emotions to get the best of him." The suit claims, "Anthony Bologna maced the plaintiffs as they were exercising their constitutionally protected rights, including freedom of speech and freedom of assembly." Elliott and Mansfield may very well come into some money if they're willing to settle — the city paid out millions of dollars in similar lawsuits after the 2004 Republican convention.