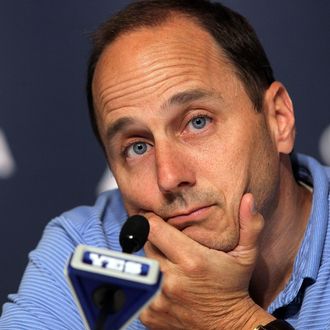 Crap.
Photo: Jim McIsaac/2011 Getty Images
Well here's an off-season move that Yankees General Manager Brian Cashman will remember: participating as an informant in the criminal prosecution of his alleged stalker.
Cashman is mixed up with a Manhattan woman who goes by the name Louise Meanwell, who on Thursday night was charged with stalking and harassing Cashman, and with two grand larceny counts for allegedly stealing (or extorting) $6,000 dollars from him, purportedly to pay for a medical procedure. Meanwell is now being held on $200,000 cash bail or $300,000 bond.

Cashman, who's married but lives separate from his wife, and Meanwell (she also goes by Louise Neathway), agree that they became acquainted in April 2011. The rest they do not agree on.
According to the complaint, Cashman attempted to distance himself from Meanwell after she began to barrage him with phone calls, text messages and e-mails "in a manner likely to cause annoyance and alarm."
Meanwell, a native of Britain and not a U.S. Citizen, says they were having an affair.
"This is a married man who has an inappropriate relationship with a single mom — it ended badly," Meanwell's defense attorney Stephen McCarthy said of the 36-year-old mother of one.
In the Fall of 2011, according to the complaint, Meanwell attempted to have Cashman pay for a medical procedure that "would cost over $15,000."

"The case before you is a long-term effort to manipulate and control the victim. It is not the first time this occurred," said prosecutor Eric Iverson, adding that she "would send over 200 text messages over a weekend. She went to the victim's vacation home, mother's home, and went through various ways to harass him."
Deadspin interviewed Meanwell on Tuesday night. Gawker editor A.J. Daulerio took the opportunity to try on the pajamas that Meanwell says Cashman wore during their slumber parties. According to Meanwell, he kept a toothbrush there too.
Deadspin included a voicemail that Meanwell told Daulerio is from Cashman and today, the website posted a $4,000 deposit slip dated January 18, 2012, purportedly from Cashman to Meanwell. The amount is consistent with a figure referenced in the criminal complaint.
Based on the complaint, it appears that Cashman went to police because Meanwell wanted more, and because she threatened contact the press if he didn't oblige. If Deadspin's account is true, she made good on her promise.
Meanwhile Meanwell has a history of stalking. The New York Post reports:
Records show Meanwell did four days in jail and got three months probation on the New Jersey conviction. She was also convicted of aggravated harassment in Westchester County in 2006; the conviction was overturned on a technicality by an appeals court in 2007, records show.

Meanwell was arrested last year on charges that she harassed a New York man she was dating, records show. She got a conditional dismissal and was ordered to stay away from him.
For a change, Alex Rodriguez and Derek Jeter aren't the Yankees' tabloid fodder.