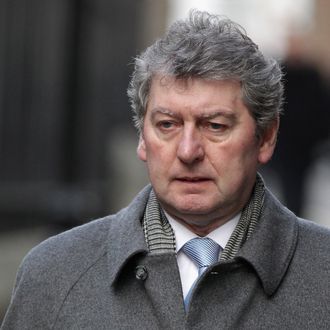 Colin Myler
Photo: Oli Scarff/Getty Images
For months, the British public has been treated to live broadcasts of witness after witness testifying about unethical and illegal practices at News of the World, the Murdoch weekly that was shuttered last summer after it became clear that phone-hacking had been widespread at the tabloid.
So far, the last editor of the News of the World, Colin Myler, who is now editor of the New York Daily News, has escaped blame. Myler, who took over News of the World in 2007,  has told the Leveson Inquiry, as it's called, that he did not tolerate phone hacking–and there is no evidence that the practice took place on his watch. But today his former news editor leveled a charge of a different kind of journalistic misdeed. Buried in the witness statement of former News Editor Ian Edmondson was the allegation that Myler had authorized a private investigator to follow two lawyers representing victims of phone-hacking.
Edmondson wasn't asked about the charge during his hour-long testimony. But in his accompanying witness statement he acknowledged that he hired investigator Derek Webb,"on the express instructions of Tom Crone," the paper's legal manager.  Surveillance is accepted practice in British journalism, but Edmondson told Crone that he didn't believe surveillance of the two lawyers served a journalistic purpose. According to Edmondson's statement, Crone insisted on it: "He said that the main reason to investigate was that it could provide the newspaper with good leverage." Crone's hope was to find evidence of an affair.
Edmondson wrote that he was concerned about Crone's directive, and asked if Myler knew of the request. "Mr Crone's response was that he (Mr Myler) did know," wrote Edmonson, who added that he still wasn't reassured. "To the best of my recollection, I wrote an email to Mr Crone asking him to confirm that Mr Myler knew about this instruction, and I received a response from Mr Crone saying that he did."
The surveillance was first reported last November, when the Guardian revealed that the News of the World had hired Webb early in 2010, after Mark Lewis had won a 500,000 pound settlement for one client and represented another,  the family of murdered schoolgirl Milly Dowler. Charlotte Harris had been hired by the soccer agent Sky Andrew. News International admitted to the surveillance campaign, calling it "clearly deeply inappropriate" and explaining that it had not been approved by "any current executive at the company."
Update: In an email to New York, Crone said he couldn't recall whether he briefed Myler.  "I am not saying for sure that Edmondson is mistaken. I simply say I can't recollect it," he wrote. Crone added that he hadn't told Edmondson surveillance would lead to a "great story" – or any story – for the newspaper.  Rather, he hoped to gather information about two lawyers suing the company. "I explained to him [Edmondson] it was an evidence-gathering exercise in the context of a potential professional misconduct complaint against the lawyers who were suspected of improperly sharing case-sensitive confidential information."