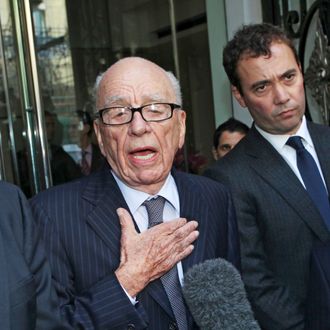 The man with the money.
Photo: Bloomberg/2011 Bloomberg
The British singer Charlotte Church is expected to collect more than $750,000 in damages and fees after holding out in her lawsuit against News of the World publisher News Group Newspapers, which was scheduled to be tried in the High Court starting Monday. Church alleges that 33 articles were written about her personal life based on surreptitious hacking into her voice mail by Rupert Murdoch's company, and that the subsequent drama affected her family's mental health and finances. Yesterday, with the first group of lawsuits almost entirely handled, Tony Blair's wife filed one of her own. Church joins Jude Law and about 50 others in taking a News Corp. payday for their troubles, while investigators say that hundreds of possible victims are still out there.