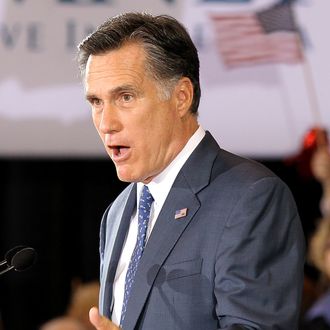 Wyoming!
Photo: Justin Sullivan/2012 Getty Images
But like his unimpressive win in Michigan, where delegates were awarded proportionally and Romney came away with the same number as Rick Santorum (15), Romney is expected to walk away from Wyoming with a marginal delegate advantage. CNN projects that of the 26 delegates at stake, Romney will pick up 10, Santorum will take in 9, Paul will receive 6, and Gingrich 1.
The CNN projection is based on straw-poll results released by Wyoming's Republican Party, which show that Romney won 39 percent of votes cast, while Santorum earned 33 percent, Paul took 20 percent, and Gingrich 8 percent.
Wyoming held caucuses throughout the month of February, and tonight the last of the state's 23 counties cast its votes. The one delegate advantage won't alter Romney's fortunes, but on John King's magic wall map it's a nice big chunk of territory.