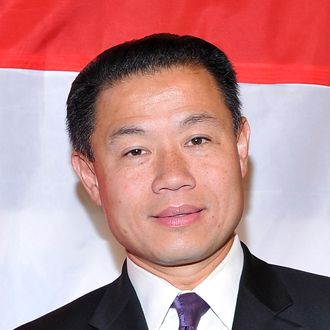 Mr. Liu.
Photo: Marc Stamas/Getty Images
Only a day before city comptroller John Liu will deliver a "State of the City" address, which no comptroller has done before, a federal grand jury indicted the fund-raiser arrested in November for illegally funneling thousands into the Liu for Mayor campaign coffers. Forty-six-year-old real estate developer from New Jersey Xing Wu "Oliver" Pan was slapped with conspiracy and wire fraud charges for "submitting fraudulent contribution forms to 'an individual who worked for the campaign of a candidate' running for public office in the city."
Both charges carry a maximum sentence of twenty years.
Although the subject of a separate ongoing FBI investigation into his campaign donations, Liu has not been accused of any wrongdoing. And as evidenced by his address tomorrow, he intends to press on with his mayoral bid.