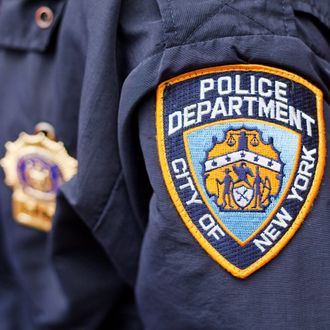 The New York Police Department's post-9/11 surveillance tactics reached well outside its jurisdiction, with undercover officers gathering intelligence on Muslims from Long Island to Yale. Newark, the largest city in New Jersey, was also subject to intelligence gathering from the NYPD's Demographics Unit, and Mayor Cory Booker claims he had no clue, according to a new Associated Press report by Matt Apuzzo and Adam Goldman, the latest in an exhaustive, ongoing series. "Wow," said Booker upon hearing the news. "This raises a number of concerns. It's just very, very sobering."
A 60-page report, viewable here, includes a dossier of Muslim-owned businesses in Newark, as well as "Islamic Religious Institutions," complete with photos. (In 2007, when the info was collected, the Newark Police Department was run by former NYPD official Garry McCarthy, who is now in charge of the Chicago Police Department.) "The report cited no evidence of terrorism or criminal behavior," the AP reports. "It was a guide to Newark's Muslims." And yet those Muslims are not the ones funding the NYPD with their tax dollars, and neither were the ones surveilled in Suffolk and Nassau counties, or at an array of colleges in the northeast. The AP notes:
The effect of the program was that hundreds of American citizens were cataloged — sometimes by name, sometimes simply by their businesses and their ethnicity — in secret police files that spanned hundreds of pages:

— "A Black Muslim male named Mussa was working in the rear of store," an NYPD detective wrote after a clandestine visit to a dollar store in Shirley, N.Y., on Long Island.

— "The manager of this restaurant is an Indian Muslim male named Vicky Amin" was the report back from an Indian restaurant in Lindenhurst, N.Y., also on Long Island.
Mayor Bloomberg unconvincingly defended the practice again yesterday; the NYPD did not respond to the AP 's request for comment. "The police department goes where there are allegations. And they look to see whether those allegations are true," the mayor said. "That's what you'd expect them to do. That's what you'd want them to do. Remind yourself when you turn out the light tonight."
Booker said his office has launched an investigation, and promised, "We're going to get to the bottom of this."