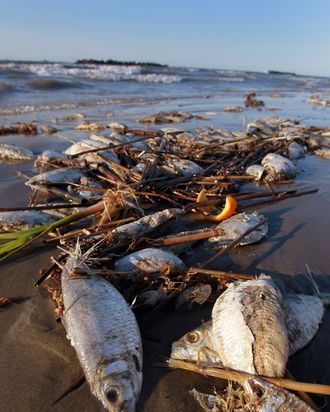 Dead fish are seen on the beach on May 10, 2010 in Lafourche Parish, Louisiana. It is unknown how the fish died. The Deepwater Horizon oil rig operated by BP is leaking an estimated rate of 1,000-5,000 barrels of oil a day into the Gulf and the slick has now reached nearby land. Efforts to contain the spill, including a 98-ton containment box to cap the leak, have done little to slow its flow.
Photo: Joe Raedle/Getty Images
An eternal truth washes ashore in Howard Beach, Queens, where the general odor is one of "socks you didn't wash for a while." Can a new $3.5 million "contraption" built by the city fix the problem?