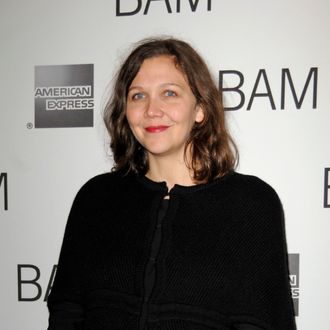 Photo: Carlo Romero/PatrickMcMullan.com
Is there any sin greater in Park Slope than skipping out on your shift at the Co-op? Not according to the New York Post, which reports that, according to anonymous kvetchers, "Everyone in Park Slope is talking about the wealthy members of the co-op sending people in their place to do their shifts." The most notorious alleged offender? Actress Maggie Gyllenhaal. But not everyone believes she's skipping out.
Other organic devotees say they've seen Gyllenhaal toiling away. "She definitely has done her own shifts," one vegetarian spy said. "And she even brought her brother [Jake Gyllenhaal]." The source explained that Maggie Gyllenhaal does not "do her shifts on the floor," but rather in "private areas" so as not to cause commotions, or spills, in any aisles.

But an insider said that "fancy members, like big actors," can arrange "future time-off plans, or FTOP, so if they go on location, they can skip future shifts."
The co-op declined to comment, so Daily Intel contacted our own "insider," who doubted the very logistics behind getting someone else to cover a shift, given the lengthy and difficult process of getting an ID card."You obviously have not been to the co-op," he wrote over IM. (True!) Only another card-carrying co-op member could potentially cover a shift, which our insider still found unlikely.
"There is no bending of the rules at the co-op. There is only the member's submission to the rules. This is communism. It is not fun, it is not loose, it is not capitalism. It is the iron will of the collective."
But perhaps our source was only too willing to believe the best of Gyllenhaal, having seen her practice the very highest sort of virtue previously. "I once bought organic eggs at the farmers market right after Maggie."