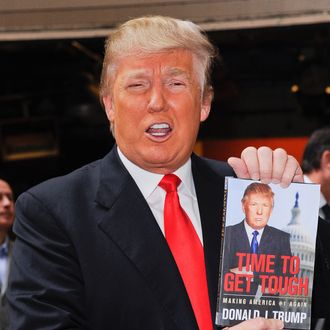 Who WOULDN'T want this man's endorsement?
Photo: Ray Tamarra/Getty Images
We're only weeks away from the fifth season of Celebrity Apprentice, so it's time for Donald Trump to start getting himself some attention again. To that end, the world's tallest oopma loompa will return to the spotlight today, if only briefly, by making an endorsement in the presidential race in Las Vegas at 3:30 p.m. And according to various news outlets, sources are confirming that Trump is set to endorse … Gingrich! Or … Romney!
Reporting That Trump Will Endorse Gingrich:
New York Times: "Donald Trump will announce his support of Mr. Gingrich on Thursday in Las Vegas, according to a senior campaign

 

official."
AP

: "Real estate mogul and reality show star Donald Trump intends to endorse Gingrich's

GOP

presidential bid, according to a source close to Gingrich's

 

campaign."
Reporting That Trump Will Endorse Romney:
CNN

: "Donald Trump will endorse Mitt Romney for president, sources with knowledge of the endorsement tell

CNN

."
 
Drudge: "will romney appear with trump to accept endorsement? is this somehow payback to sheldon

 

adelson?"
ABC

News's Michael Falcone: "Trump's backing of Romney today comes on the heels of a series of discussions b/t the two camps over several

 

months."
So basically, somebody is spreading misinformation to someone, nobody really has any idea what's going on, and Trump is probably loving all the attention being paid to an endorsement that doesn't matter regardless of who it goes to. Our guess? Trump shows up in a wedding dress and announces that he's endorsing himself and marrying himself. Just a hunch. 
Update: Looks like it's Romney. AP, which formerly reported that Trump would back Gingrich, is now saying he'll endorse Romney. NBC News agrees. 
Update II: According to a Pew poll taken a few weeks ago, only 13 percent of Republican voters would be more inclined to support a candidate endorsed by Trump, while 20 percent would be less inclined. Among the general electorate, those numbers are 8 percent and 28 percent, respectively. Nice get, Romney!
Update III: "Pretty close to official," tweets ABC News's Rick Klein. "Romney camp sends advisory about afternoon event at 'Trump International Hotel.'"
Update IV: Like Jon Huntsman before him, Donald Trump said many unflattering things about Mitt Romney before endorsing him. Just one example: "He's going to lose. He doesn't resonate, you know?"
Update V: It's over. Trump, who spoke for less than two minutes, said Romney would "not going to allow bad things to continue to happen to this country." Romney said that getting Trump's endorsement was a "delight."