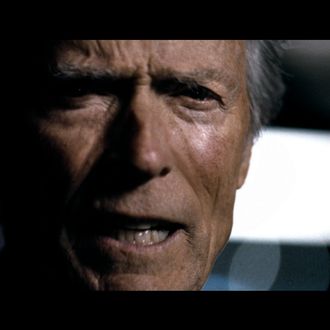 Republicans excoriated it, with Karl Rove professing to being "offended" by it. The White House extolled it as proof-positive that even a dyed-in-the-wool Republican icon supported the federal bailout of Detroit's carmakers. In effect, Chrysler's two-minute cinematic Super Bowl advertisement has become a political touchstone for American politics: Whatever your bias, rubbing up against it will leave a visible trace. And according to Clint Eastwood's longtime agent turned manager Leonard Hirshan, that's exactly why his client starred in the TV spot.
"That's the problem; everything is political now," says Hirshan, who tells us that he didn't see the "Halftime" spot until it aired last night, and insisted that Eastwood agreed to make the spot without even consulting his representative of 50 years because it was "something personal he got involved in" that was neither political nor commercial.
The TV spot pointedly made no reference to Chrysler, or its cars, which do not appear in the ad; only a clutch of Chrysler car logos appear at the end. This, Hirshan says, was not an accident; it was, in fact, Eastwood's doing.
"He rewrote it to make it suit his needs," he explains, "People have to understand that what he was doing was saying to America, 'Get yourselves together – all of you – and make this a second half.' It's not a political thing."
That didn't keep the Internet's political chat rooms, right-wing talk-radio shows, and cable-news channels from exploding into speculation about whether Eastwood, a longtime Republican, had defected from the GOP or was at least carrying water for the Obama reelection effort.
"I think that Rove and everybody, if they're sensible, would wonder why a longtime Republican and libertarian would do that," said Hirshan, "Just think about that, how silly that is: It's not like [the ad] was done by a left-winger, like Paul Newman in his day. It was done by a Republican, and he was doing it about America. There's not anything political to do with it whatsoever. I don't want him to do commercials, and as far as I'm concerned, it's a PSA [public service announcement]. Period."
But on Fox News, Rove and many others saw it as just the opposite, arguing that "the President of the United States and his political minions are, in essence, using our tax dollars to buy corporate advertising" — despite the fact that the U.S. government sold off its stake in Chrysler six months ago, long before the ad was produced.
"It saddens me personally," Hirshan says, "how every little thing is twisted to satisfy or dissatisfy one side of the spectrum. Clint Eastwood is more libertarian than Republican, but he is a Republican. But he's also very independent: He personifies America, in terms of wanting it to be what it's supposed to be, and not just following somebody's policy. He thinks for himself."
Hirshan noted that Eastwood would not be available to comment on the "Halftime" ad, as he was too busy both recruiting celebrities to play in his annual Pebble Beach national pro-am golf tournament (which Eastwood co-owns with Arnold Palmer, among others) and prepping for his role in longtime producer Robert Lorenz's directorial debut, Trouble with the Curve, a baseball drama that begins shooting next month in Georgia. Has Hirshan discussed the ad's political fallout with Eastwood?
"We never talk politics, which is the secret of our success," said Hirshan, "I'm a Democrat, he's a Republican, but we get along, because we're both independent."
Hirshan then paused to add, "I don't play golf, either — that's the secret of my success: Ever since he bought Pebble Beach, people come up to him and say, 'Hey, Clint! Let's play golf next Saturday!' and I am sure Clint is mumbling under his breath, 'Who is this asshole again?'"