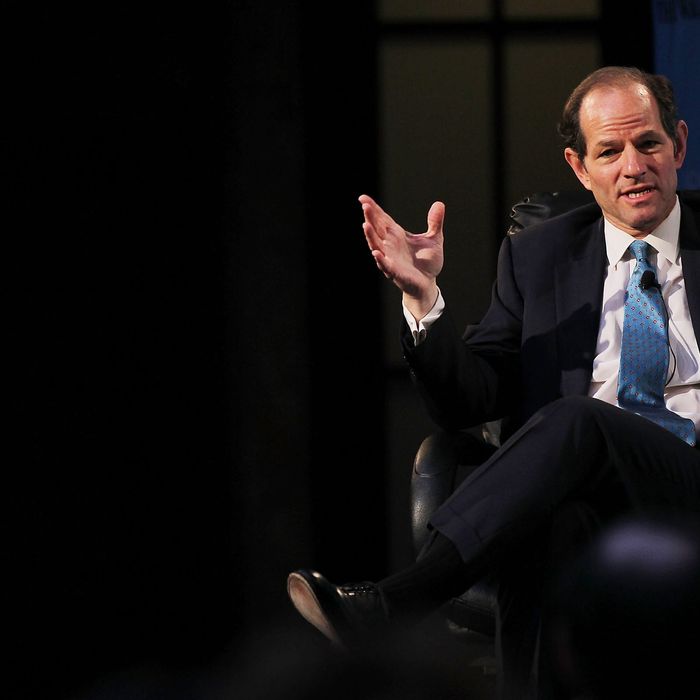 Photo: Spencer Platt/Getty Images
Eliot Spitzer is hosting a political fund-raiser for the first time since a prostitution scandal forced his resignation as governor of New York, the Post reports, but it's not for himself or even another local. On March 5, Spitzer is throwing a party at his Fifth Avenue home for the gubernatorial campaign of Washington Democrat Jay Inslee, who has served in the U.S. House of Representatives since 1999. For Spitzer, it's a slow start, to be sure, but the tabloid has no problem throwing around words like "political mover and shaker" and "national kingmaker," and hinting at a larger resurgence to come. "The second-oldest profession in the world is political fund raising," one source quips, stretching the saying some.
Spitzer is hosting with the help of fund-raiser Cynthia R. Darrison, who worked with the former governor on his own campaign.* Inslee is pro-choice, supports gay marriage, and favors environmental issues, in line with Spitzer's own positions. "Eliot thinks he is a winner," says the invitation for the dinner, where tickets run from $1,000 to $3,600.
The peanut gallery is more than happy to speculate about the implications for Spitzer's future. "Eliot is smart to get back to fund-raising with an out-of-state race, to not automatically generate any new local enemies," one anonymous source said. "This is a shrewd way for him to get back in the game." The "Client 9" disgrace that brought him down occurred in 2008, and is already starting to feel like a distant memory in a political climate not short on embarrassing falls from grace, and with his failed CNN show (and Slate column!) as a buffer. New York alone has had the Craigslist congressman Chris Lee and, of course, Anthony Weiner since then, which far outweigh on-air awkwardness with Kathleen Parker.
Still, the local media has been eager for years to brand any Spitzer movement a comeback, while the ex-governor's actions have been minor and vague at best. A few months ago, 57 percent of New Yorkers didn't want Spitzer to run for mayor in 2013, but forgiveness is a funny thing and the man does not seem to be pushing it. 
*This post has been updated to reflect that Darrison is not working for the Inslee campaign, as the New York Post erroneously reported.