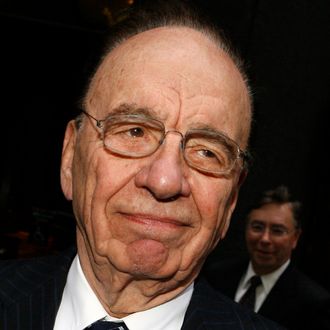 Photo: Jason DeCrow/AP2007
While it might not be as bad as hacking the phones of September 11 victims — accusations  about which have not been substantiated — Rupert Murdoch's News Corporation still faces potential consequences in the United States for illegal actions at the company's British newspapers. Reuters reports today that U.S. authorities are "stepping up" an inquiry into whether Murdoch employees violated the Foreign Corrupt Practices Act (FCPA) by paying off police in Britain.
News Corp. is officially under investigation across the Atlantic on three fronts:
One inquiry, known as Operation Weeting, is investigating alleged phone hacking, and a second inquiry, Operation Tuleta, is investigating allegations of computer hacking. The third investigation, Operation Elveden, is investigating allegations that journalists paid police officers bribes in return for story tipoffs. The head of the three investigations said this week she was increasing the number of police looking at police payments.
But because News Corp. headquarters is in New York, the company could be fined up to $2 million and barred from receiving U.S. government contracts if they are found to have violated the FCPA. Evidence that reporters and editors looking for scoops paid more than $158,000 to police contacts was handed over to British authorities by News Corp.'s Management Standards Committee, which was created to deal with the array of investigations. In addition to the now-shuttered News of the World, Murdoch's British tabloid The Sun was recently raided in connection with the bribery investigation. News Corp.'s new general counsel must be very busy.
Beyond causing more problems for the company, a violation of the FCPA also gives the U.S. Justice Department and Securities and Exchange Commission jurisdiction to investigate the individuals responsible and pursue civil cases. However, as Reuters reports, "In practice, U.S. authorities have usually settled FCPA cases in return for large cash payments from companies, who can sometimes avoid legal admissions of guilt." Murdoch and co. are getting pretty good at that.