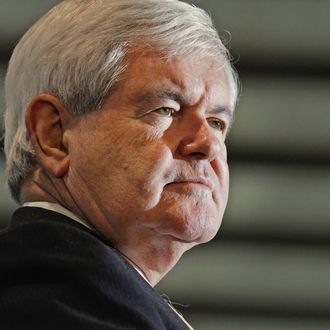 Whoa, whoa, whoa, Florida.
Photo: Chip Somodevilla/2012 Getty Images
In a December 21 letter to Lenny Curry, State Chairman of Florida's Republican Party, the RNC warned that per newly adopted Republican Party rules, Florida was not authorized to hold a winner-take-all primary before April 1. The RNC amended its rules in an effort to stratify a front-loaded primary calendar.
Florida scheduled its primary for January 31 anyways, in violation of amended Rule No. 15(b) that permits Florida only to have a proportional division of its delegates (in a pre-April 1 primary or caucus). So, per the rules, the RNC docked Florida half of its seats to the convention, reducing their delegation from 99 to 50. But there's more. Reince Priebus, Chairman of the RNC, saw a challenge coming based on Florida's rules violation, and now the Gingrich campaign is bringing it. Priebus wrote:
"In addition, it has come to my attention that one or more Florida voters may file a contest seeking proportional allocation of Florida's delegation based on the primary taking place prior to April 1."
Although Priebus didn't indicate how the RNC would handle a challenge, the door was obviously left open. According to a Fox News report, a Florida Gingrich campaign official will take up a dispute with the RNC seeking to have the rule enforced and Florida's delegation distributed proportionately based on the vote. Fox obtained a memo purportedly from Gingrich's camp, dated February 1, that spelled out the rule violation, citing the Priebus memo and the RNC rules. The unsigned memo closes with this:
For these reasons, it would appear that the issue of whether Mitt Romney indeed won all 50 delegates in the Florida primary remains an unsettled question which will not be resolved until the Republican convention in Tampa this August.
Gingrich won 32 percent of Florida's vote, while Romney picked up 47 percent.