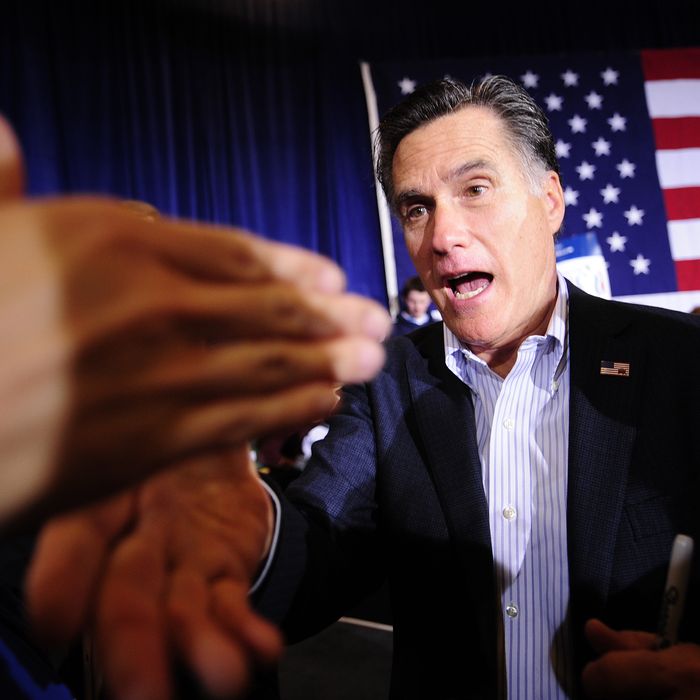 Photo: EMMANUEL DUNAND/2012 AFP
The biggest victim of today's blowout jobs report – aside from the millions of Americans who still lack jobs, of course – is Mitt Romney's presidential campaign. Romney has rested his entire case for election on the sluggish economy. Intel Dan thinks he needs a new theme, and Romney's campaign seems to have been stunned into silence, taking an unusually long time to come up with any reaction at all. But I think going all-in on economic pessimism remains Romney's strongest chance.
Romney has been claiming that President Obama's policies have "made the economy worse." Journalism fact-checkers are pummeling him for it, pointing out that the economy is not actually doing worse than when Obama took office. That's true, but, as so often occurs, the fact-checkers are being annoyingly overliteral in their interpretation of his words. Romney isn't necessarily saying that the economy is worse, merely that Obama's policies worsened the economy – that is, that the economy would have recovered more strongly in the absence of his intervention. Now, I find that claim ridiculous, as would pretty much the entire macroeconomic forecasting field. But it's not a provably false statement.
In any case, it's all Romney has. Obama remains personally well-liked. Romney is personally unpopular. The Republican Party is extremely unpopular. Obama has had no major scandals, and his foreign policy has been highly successful to date. There is the rise of the budget deficit (that predated him), but that allows Obama to turn the debate onto priorities, and here the public overwhelmingly sides with his preference for a balanced plan that includes higher taxes on the rich over the Republican approach of all cuts plus new tax cuts for the rich.
Conservatives are urging Romney to run on opposition to the Affordable Care Act, which does continue to poll badly. But two obstacles present themselves. First, Romney's Massachusetts plan and Obama's plan are the same fucking bill, as the economist who designed both says. Second, the opposition to the Affordable Care Act is wide but soft. A large chunk of those who disapprove of it oppose it from the left, thinking it didn't go far enough. (A majority wants to keep or expand the law.) Americans know little about the law's details, but when explained, the details are actually popular, and turning the campaign into a more detailed discussion of what the law actually does would probably make public opinion more favorable.
So Romney doesn't have much of an alternative. He simply has to keep plugging away at his theme, because his only real winning scenario involves winning on the back of a bad economy. While it's improving, the economy remains very weak. And there remain any number of scenarios that could derail the fragile recovery — a European implosion, an Israeli attack on Iran, or something else we're not thinking of.
Cheer up, Romney! Things could still get worse for the economy.