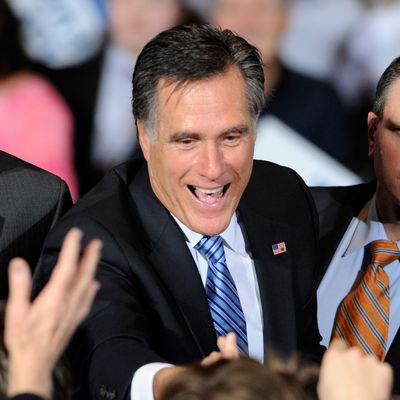 A victorious Romney last night in Nevada. (Ethan Miller/Getty Images)
Photo: Ethan Miller/2012 Getty Images
There's a block of eight swing states in the Midwest that any candidate needs to lock in their party's nomination, so says the Times' political data guru Nate Silver. Obama clinched seven of them in 2008. Romney's already lost one, Iowa, by a handful of votes to Rick Santorum. On Tuesday, two more are up for grabs: Minnesota and Missouri. Santorum's looking competitive in early polls in the former and was recently leading Romney by double digits in the latter. Granted, Romney's win in Nevada yesterday may provide the requisite bump in the land of infinitely many lakes, and he remains the only candidate even tying with Obama in Missouri matchups. Still, a loss in either or both states would severely slow Romney's latest bout of momentum. After all, Missouri has predicted the general election winner more times than any other state.
A few weeks later, on February 28, we move on to Michigan, which is home territory for Romney, whose father was governor there in the sixties. Might be a cakewalk for Romney, but then again he did sound off against bailing out Detroit's automakers, which will definitely cost him some votes. (A prime opportunity for Gingrich to reprise his "vulture capitalist" attack, that is if he or his super Pac have any money left.) A week later is Super Tuesday, when one of the juiciest prizes available is Ohio, which right now sits tentatively in Newt Gingrich's camp. A little bit of good news for Romney today: One of the state's largest newspapers, the Columbus Dispatch, just endorsed him. The other four states — Indiana, Pennsylvania, Wisconsin, Wyoming — well, we'll get to them when we get there.
So while it's not all doom and gloom for Mitt Romney, the man who most Republicans still believe is best suited to beat Barack Obama in November, his fortunes may just as easily wax or wane in the coming weeks. Stay tuned.