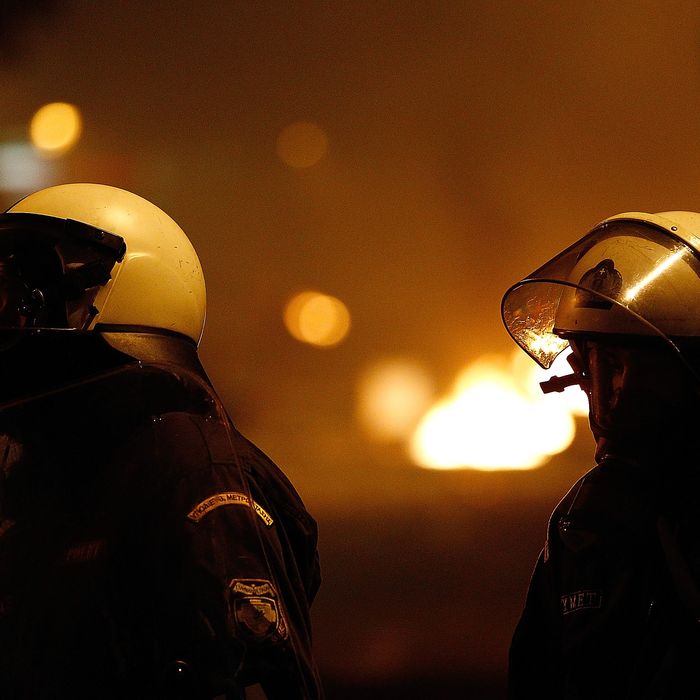 Members of Greece's Special Police Forces in Athens.
Photo: Vladimir Rys/2012 Getty Images
Greece's Parliament voted on Monday to secure a second financial bailout from the European Union and International Monetary Fund. The rescue funds will prop up the indebted nation, but at a cost: severe austerity measures, a demand made by the country's foreign lenders in exchange for new loans, according to the New York Times.
Reuters reports that the EU and IMF is sick of Greece's "broken promises." The bill requires 3.3 billion euros ($4.35 billion) of extra budget cuts for this year alone; it will reduce Greece's minimum wage by 22 percent, and will result in 150,000 government layoffs by 2015. All this in a nation where the unemployment rate is 21 percent right now. So to suggest the bill is unpopular is like saying Mitt Romney has a so-so relationship with conservatives.

"Ahead of us, we have a complete and credible economic program to exit the fiscal and economic crisis. It is a program which safeguards, more than anything else, the country's place in the euro," Prime Minister Lucas Papademos said.

Protests broke out all across the nation where 80,000 took to the streets, many violently. Molotov cocktails met the government's tear gas. Roughly 150 shops were looted in the capital and 40 buildings set on fire, including a nineteenth-century Attikon cinema.