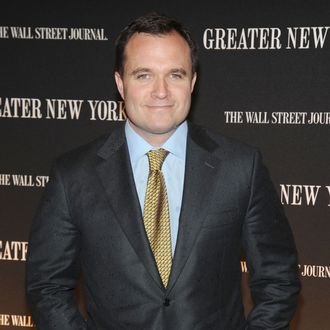 Greg Kelly.
Photo: BILLY FARRELL/Patrick McMullan
After a two-week investigation into a woman's claim that she was raped in October by 43-year-old Greg Kelly, son of NYPD Police Commissioner Ray Kelly, Manhattan prosecutors have decided not to file charges against him.
In a letter to Greg Kelly's attorney Andrew Lankler from the District Attorney's Office, Chief of the Sex Crimes Unit Marsha Bashford advised Lankler that the office conducted a thorough investigation in its usual manner, which included interviews with numerous witnesses and "multiple items of physical evidence" including security logs, text messages and telephone records.
"The facts established during our investigation do not fit the definition of sexual assault crimes," Bashford wrote. "Therefore, no criminal charges are appropriate."
The woman had said that Kelly attacked her in the office of the law firm where she works after they rendezvoused at the South Street Seaport after meeting a few days earlier. But "flirtatious" text messages between exchanged after the alleged assault undermined the woman's claim.
As is custom in cases involving sexual assaults, the media has not identified the accuser, although she has been described as a 30-year-old aspiring actress and model who works at a law firm downtown and has a brother who works as an NYPD sergeant. Not long after the investigation into her allegation began, it became apparent that the woman's "furious" boyfriend might have driven her to bring the matter to the police.

A relieved Greg Kelly, who took an indefinite leave of absence from hosting Good Day New York on Fox 5, issued the following statement:
"I am thankful that the investigation established what I've known all along, that I am innocent of the allegations that were waged against me.

I am so blessed to have a wonderful family and friends whose support for me never wavered.

My lawyer Andrew Lankler and advisor Ken Sunshine were invaluable during this process. 

Thank you to the thousands of Good Day New York viewers who expressed positive support through social media.

And I am grateful to everyone at Fox 5, especially Rosanna Scotto, my co-host.  I will always remember her kindness, and I look forward to soon resuming my post on Good Day New York next to her."