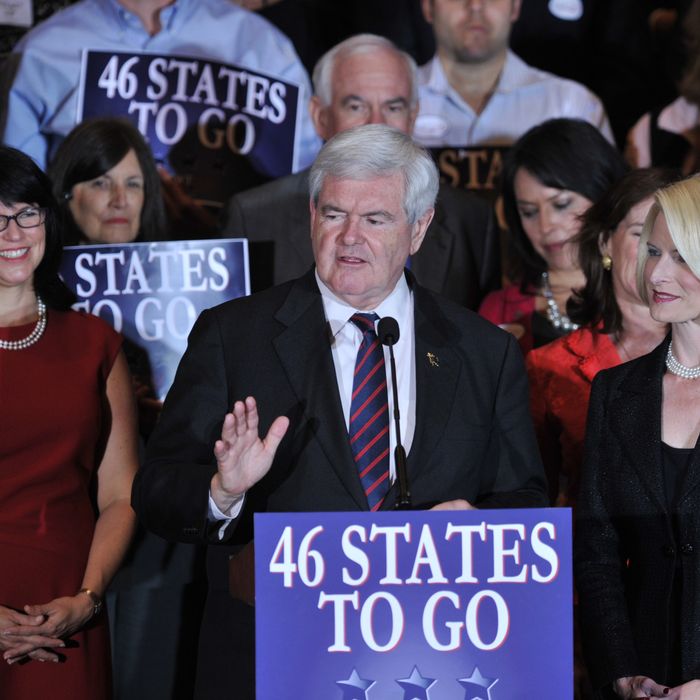 Photo: STAN HONDA/2012 AFP
Election Nights are always about numbers. After days or weeks or months of rhetoric and spin, claims and counterclaims, there are results and exit polls — suddenly hard data does the talking.
Which isn't to say that the candidates and their teams just as suddenly fall silent. As the numbers roll in, the interested parties scramble to offer favorable interpretations, attaching outsized, totemic, and even quasi-religious meaning to certain figures while downplaying the significance of others. On Election Nights, in other words, the candidates and their surrogates become numerologists.
For Mitt Romney and his people, the results last night in Florida offered so many flattering figures that precious little cherry-picking was required. Most obviously, there was the overall margin — fourteen points, an even more thorough drubbing than the one Newt Gingrich administered to him in South Carolina. But more impressive was what the exit polls had to say about the breadth of Romney's victory. In addition to whipping his main rival within the constituencies that are consistently part of the Romney coalition — the affluent, the educated, the moderate, the non-Evangelical — he carried conservatives and tea-party supporters by the same margin, 41-37 (though he lost among the "very conservative" 41-30 and among ardent Earl-Grey-guzzlers 45-33), and claimed a near-draw, 36-38, among God-squadders. And despite Gingrich's more tolerant policies on immigration, Romney spanked him among Latinos (54-29), as well among women (52-28), marrieds (43-32), singletons (48-26), and the 45 percent of voters who considered electability the most salient attribute in a candidate (58-33).
Gingrich, by contrast, had very few numbers to cling to. As the polls opened Tuesday, the former speaker predicted on Fox News that "the conservative vote"  — by which he meant the combined total for him and Rick Santorum — "will be dramatically bigger than Governor Romney's." But the final result betrayed that forecast badly: Together Newt and Rick nabbed 45 percent, one point shy of Willard's total. Ouch.
This left Gingrich and his supporters touting a different double-digit: In the hall at his Election Night event in Orlando, there were placards reading "46 States To Go," and Gingrich instantly tweeted that same message, adding only an exclamation point and a fund-raising appeal. Sad? Yes, but it was pretty much all they had to work with.
That Gingrich is, at least for the moment, dead serious about continuing the fight against Romney all the way to the Republican convention in Tampa strikes me as self-evident. This will be his one and only White House run, he has no political incentive to stand down, and he's at once angry, self-inflated, and unbalanced enough to wage a full-scale anti-Romney jihad. The question is whether he will have the wherewithal to do so — and, in particular, whether he can survive the grueling month ahead, which features contests in not a single state where he is favored to win, and make it to March, when the electoral terrain shifts southward.
So in the numerical spirit of the moment, let's look ahead to February and grok some of the key integers that will shape the next phase of the Republican campaign:
9: The number of contests between now and Super Tuesday on March 6, of which six are caucuses (in Nevada, Maine, Colorado, Minnesota, Guam, and Washington) and three are primaries (in Michigan, Arizona, and Missouri, though the Show Me State also holds caucuses in March, which is where its delegates are actually won). The polling in these states thus far is dated and dreadful, but many will boil down to Romney (whose resources allow him to compete anywhere) and Ron Paul (who has made caucus competitions the cornerstone of his strategy from here on out). If Paul — or Santorum, who is up on the air with ads in Nevada and Colorado — can beat Romney in any of the caucus states, that could prove a benefit to Gingrich, weakening the narrative that Romney's win in Florida has launched him on a smooth and unobstructed march to the nomination.
180: The number of delegates at stake in that time frame. For comparison's sake, note first that this is 65 more delegates than have been awarded in the four contests thus far — so, strictly speaking, February and its lower-profile contests matter more than January and its splashy ones. But more important, even after all the pre-Super Tuesday primaries and caucuses are finished, only 13 percent of the 2,286 total delegates to the Republican convention will have been secured — 124 fewer than will be at stake on March 6 alone. All of which is to say that Gingrich has a point when he argues that the nomination fight has, in a real sense, barely gotten started. But with the number of contests accelerating and becoming more geographically dispersed, it places a larger premium on financial resources, which is Romney's strong suit. To wit … 
$20 million and $2 million: The 2011 year-end cash-on-hand totals for the Romney and Gingrich campaigns, respectively, just released yesterday by the FEC. In the battle of dollars, the disparity in power between the two campaigns is at once enormous and enormously consequential — as was vividly clear in Florida, where the Romney forces outspent Team Gingrich by four or five to one. Gingrich's campaign put word out yesterday that it raised another $5 million in January, but in all likelihood, much of that is already gone. And of course Romney, after his near-victory in Iowa and his win in New Hampshire, has no doubt been buckraking madly, too. The conclusion here is straightforward: For Gingrich to compete on Super Tuesday and beyond, he will need to close the money gap or he is doomed. Which brings us to …
$10 million and $22 billion: The amount of money that Vegas casino magnate Sheldon Adelson and his wife Miriam have forked over to the pro-Gingrich super PAC Winning Our Future, and Adelson's net worth, respectively. Once again, the disparity between the two numbers is what's important here, for it demonstrates the truth of a recent, fanciful, yet still exhilarating (to Gingrich, at least) Forbes.com headline: "Sheldon Adelson Could Give $1 Billion To Gingrich And Not Notice." The question, of course, is will he? — or, rather, how much will Adelson give in the future, now that the beneficiary of his largesse looks close to mortally wounded? Impolitic has heard murmurs that the Republican Establishment is working the phones maniacally to convince Adelson to shut his checkbook; one source suggests that Eric Cantor has been made point man in the effort. Will Adelson listen? The answer may determine whether Gingrich can stage a third comeback.
1: the number of debates scheduled in the month of February. Gingrich's performances onstage with Romney have been schizophrenic, of course, sometimes helping him (as in South Carolina) and sometimes hurting him (as in Florida). But there's no doubt that the dearth of clean, nationally televised shots at the front-runner will be a problem for the challenger. And compounding this dilemma will be the phenomenon described in a savvy Buzzfeed piece by former TV executive (and Bush family member) John Ellis: the dramatic reduction in free-media opportunities available to Gingrich as cash-strapped news divisions pull back on their campaign coverage now that Romney seems to be in command. As Ellis puts it:
Presidential candidates survive on the oxygen of media coverage. It's what keeps them going, enables them to keep raising money. Once the coverage is withdrawn, it's only a matter of time before their candidacies expire. Out of sight, out of mind, out of money. After [Florida], all but one of the GOP presidential candidates will start being taken off life support. By the time we get to Super Tuesday in early March, you probably won't even remember Rick Santorum's name.
And while no one is ever likely to forget Newton Leroy, the devilish confluence of daunting numbers outlined above — and the laws of both arithmetic and political physics that govern presidential campaigns — add up to nothing good for him. But that doesn't mean the days of wine and roses have arrived for Romney. For in 2012, there is some new math at work, to which we'll turn in my next post.
Related: Slideshow: Unguarded Moments on Florida's Campaign Trail