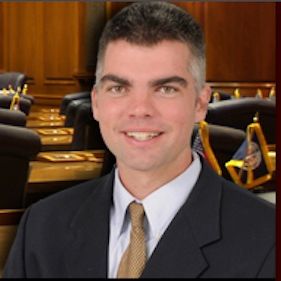 Are you sure that cookie isn't gay?
Photo: Indiana House of Representatives
Representative Bob Morris (R-Fort Wayne) of the Indiana House of Representatives believes that the Girl Scouts of America (and its worldwide partner) is a radicalized, pro-abortion, tactical arm of Planned Parenthood that "promotes homosexual lifestyles" and counts communists among its role models.

How does Bob Morris know this?
"After talking to some well-informed constituents, I did a small amount of web-based research, and what I found is disturbing," he wrote to his fellow Indiana House Republicans, explaining his refusal to sign a nonbinding resolution to honor the 100th anniversary of the Girl Scouts. He also challenged each of them to examine the Girl Scouts before deciding to sign the resolution.
Morris also cited his personal experience — his two daughters were active in a local Girl Scouts troop — as part of his belief that the Girl Scouts is effectively a Planned Parenthood operative designed to turn female youth of America into homosexual abortion lovers. Morris believes that Girl Scouts role models play an integral role in this transformation. Explaining that he is not alone in his horror, he wrote:
Many parents are abandoning the Girl Scouts because they promote homosexual lifestyles. In fact, the Girl Scouts education seminar girls are directed to study the example of role models. Of the fifty role models listed, only three have a briefly-mentioned religious background – all the rest are feminists, lesbians, or Communists. World Net Daily, in a May 2009 article, states that Girl Scout Troops are no longer allowed to pray or sing traditional Christmas Carols.
Apparently the Girl Scouts of Northern Indiana Michigan got caught up in a culture war that has impacted the organization in other parts of the country as well. In a memo titled "What We Stand For," two local Girl Scouts leaders wrote that neither the local Indiana troop nor the Girl Scouts of America have any relationship with Planned Parenthood, and derive no funds from PP (which has been mired in its own national controversy recently).
Nevertheless, Bob Morris became the only House member to refuse to sign the resolution.